I received this book for free from the publisher in exchange for an honest review. This does not affect my opinion of the book or the content of my review.
This book may be unsuitable for people under 17 years of age due to its use of sexual content, drug and alcohol use, and/or violence.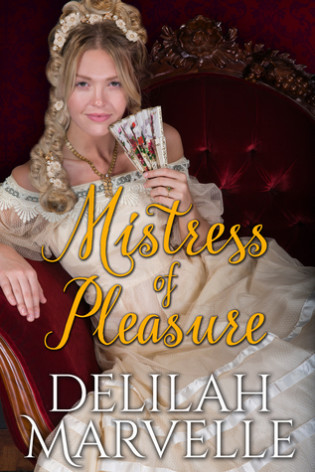 Mistress of Pleasure
by
Delilah Marvelle
Series:
School of Gallantry #1
Published by
Self-Published
on July 1, 2015
Genres:
Erotic Romance
,
Fiction
,
Historical Romance
,
Romance
Pages:
256
Format:
eARC
Goodreads
Granddaughter of a renowned courtesan, Maybelle Maitenon has no interest in her grandmother's school in London where gentlemen receive instruction--in the art of seduction. Her only desire in life is to remain independent and free from men and their overbearing expectations. But when Maybelle lays eyes on the Duke of Rutherford, who is well-known for his gentlemanly ways, she can't resist. Neither she or the duke are prepared for what their attraction is about to do not only to their sanity but their hearts.

WARNING: This book contains strong language and sexual content that may cause respectable people to swoon.

This quirky, sexy and scandalous Regency/Victorian Historical Romance is part of a series but can be read as a stand alone.
As a romance reader and reviewer, I'm always interested to see what happens with books I've read and loved before that are later reissued with extensive changes and plot expansions. MISTRESS OF PLEASURE was originally released in 2008 as the introduction to the School of Gallantry series, featuring 5 English lords needing lessons in love from a retired French courtesan. Now that rights to this book have reverted to the author, it's back in a longer and even more entertaining version that better connects the book to those which followed it.
Maybelle's never been accepted by the ton because of her beloved grandmother's previous profession, and would rather spend her life exploring rocks and dirt in Egypt than risk her heart on any man. But when a moment of passion threatens to derail all her plans, only her grandmother can help her find the way to a love Maybelle never dreamed could exist.
Much like Maybelle, Edmund has sworn never to let love ruin his life, especially with his father as the worst possible example. But Edmund and Maybelle are better matched than either suspects, each chasing and fleeing each other in turn before the students at the School of Gallantry take matters into their own hands to get them together for good.
Although I had enjoyed the original version of MISTRESS OF PLEASURE, I found this new expanded and updated incarnation even more entertaining. We get more explicit connections to the series as a whole, most notably with regard to the final book which was released earlier this year. Indeed, there is so much more material here related to that story that I was glad I'd already read it, as I might have felt somewhat spoiled at seeing parts of it here first.
My favorite expanded scenes involved Edmund and his mother, and the additional insight we got into why the actions of Edmund's father had been so devastating. If Maybelle hadn't instigated their first unorthodox meeting, both she and Edmund would have ended up alone and unhappy, and that helped me be patient with their assorted antics as they finally figured out they belonged together.
The School of Gallantry is one of my favorite historical romance series and appears to be getting even better now with this first reissued book. Even if you've read MISTRESS OF PLEASURE before, you should definitely read it again. I'm glad I did, and I can't wait to see what Delilah Marvelle does with the other older books in the series.
Related Posts