I received this book for free from the publisher in exchange for an honest review. This does not affect my opinion of the book or the content of my review.
This book may be unsuitable for people under 17 years of age due to its use of sexual content, drug and alcohol use, and/or violence.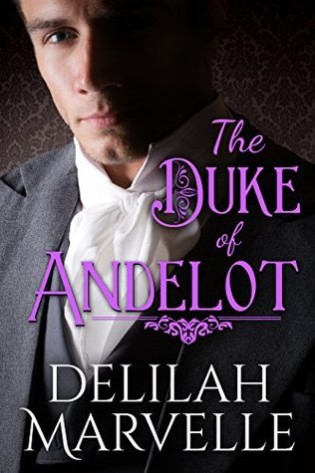 The Duke of Andelot
on April 10 2015
Pages:
314
Format:
eARC
Goodreads
For fans of The Scarlet Pimpernel and Tom Jones comes a twisted, sexy tale that takes the French Revolution to smoldering new heights.

Long before becoming the flamboyant courtesan known to men as Madame de Maitenon, Thérèse Angelique Bouchard, dreamed of becoming an actress capable of commanding not only the stage but all of Paris. Until she meets an extraordinary aristocratic gentleman who sweeps her into his arms and the danger of his life, while offering her the sort of wealth she never imagined. What starts off as a seductive alliance, ends in her giving him the one thing she, as a mere bourgeoisie, cannot afford to give: her love.

After the murder of his older brothers, Gérard Antoine Tolbert, becomes the last heir to the powerful dukedom of Andelot, leaving him to fight for not only his life, but the allegiance he holds for the crown. During the final rise of the French Revolution that whispers of the violent change about to shake the entire country, Gérard meets an aspiring actress who entices him into wanting more out of not only himself but life. In trying to protect her from their overly passionate alliance and those that want him dead, he must decide what matters most: his life or his heart.

WARNING: This book contains strong language and sexual content that may cause respectable people to swoon.
THE DUKE OF ANDELOT is the triumphant conclusion to Delilah Marvelle's excellent School of Gallantry series, but like the other books before it, it can easily be read as a standalone, even if you don't know who everyone is in the lovely epilogue. I myself came into this series with book 4, NIGHT OF PLEASURE, and since then have enjoyed going back and discovering the stories running concurrently with all the others.
As the final book of the series, THE DUKE OF ANDELOT is somewhat different from the rest in that the bulk of its story takes place decades earlier. In it we learn how the notorious Madame de Maintenon found her own true love, only to lose him, perhaps forever, to the chaos of the French Revolution. Before she was the toast of Paris and London, she was merely Thérèse, the butcher's daughter, tramping through the countryside on her way to her beloved cousin Remy and his small Paris theater. When a threatening highwayman turns out to be Gérard, a highly placed aristocrat on his way to attempt an improbable rescue of his beloved godfather, Thérèse is attracted to him, but skeptical of his motives. As their journey continues, their love for each other grows as quickly as the danger they both face while the Revolution speeds toward its predestined conclusion.
I'll admit that when I first started reading, I was disappointed to begin in the past, with only my knowledge that this was Madame de Maintenon's story to keep me from immediately losing interest. But once Thérèse and Gérard find themselves completely in love with each other, I was thoroughly hooked. And by the time they each must make the decisions they need to stay alive, I was awash in tears which lasted all the way to the short but satisfying epilogue which tied up the whole series in joy. Even the small repetitive parts (for those familiar with the previous books) couldn't keep me from wallowing with glee in the Happy Ever After for the woman who had brought so many to others before her and the one man worthy of her love. THE DUKE OF ANDELOT is a satisfying historical romance for anyone who loves a happy ending that's merely delayed, not denied.
Related Posts