I received this book for free from the publisher in exchange for an honest review. This does not affect my opinion of the book or the content of my review.
This book may be unsuitable for people under 17 years of age due to its use of sexual content, drug and alcohol use, and/or violence.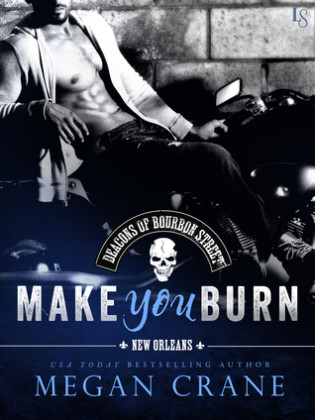 Make You Burn
by
Megan Crane
Series:
Deacons of Bourbon Street #1
Published by
Random House Publishing Group
on August 4th 2015
Genres:
Contemporary
,
Contemporary Women
,
Erotic Romance
,
Erotica
,
Fiction
,
General
,
Romance
Pages:
217
Goodreads
Meet the Deacons of Bourbon Street, bad boy bikers who are hell on wheels—and heaven between the sheets. Megan Crane revs up an irresistible new series co-written with Rachael Johns, Jackie Ashenden, and Maisey Yates.   Sean "Ajax" Harding's oaths are inked into his skin. Once second-in-command of the Deacons of Bourbon Street motorcycle club, he left New Orleans to protect the brotherhood, and only the death of his beloved mentor, Priest Lombard, could lure him back. Walking into the old hangout gives him a familiar thrill—especially when he gets an eyeful of the bar's delectable new owner. A wild ride with her is just the welcome Ajax needs. Then he realizes that she's Priest's daughter, all grown up and totally off limits.   Sophie Lombard loved her father, not his lifestyle. She's done with bikers . . . until Ajax roars into town—arrogant, tough, and sexy as ever. And although he treats her like the Catholic schoolgirl he once knew, Sophie's daydreams tend to revolve around sin. With the very real possibility of heartbreak looming, Sophie knows better than to get too close to an outlaw. But every touch from Ajax is steamier than the Louisiana bayou—and heat like this may just be worth getting burned.   Includes a special message from the editor, as well as an excerpt from another Loveswept title.
MAKE YOU BURN is the first book in the Deacons of Bourbon Street, a new motorcycle club romance series co-written by some of my favorite romance authors. In this first book, we are introduced to the world of the Deacons, a once infamous New Orleans MC that is now nearly defunct after the devastation of Hurricane Katrina. The sad event bringing its remaining members back to the Big Easy is the sudden death of its charismatic leader, Priest Lombard. Yet it's Priest's daughter Sophie who immediately distracts the club's VP Ajax as he rides into town for the first time since Priest exiled him ten long years ago.
Sophie is doing everything she can not to collapse in the face of her father's death and seeing the dangerously sexy Ajax back in her father's bar is exactly what she doesn't need. But Ajax has his own ideas about what she needs and it isn't long before they begin a torrid affair that threatens to take them both down a path neither one had ever planned.
If you love MC romance, then you will enjoy MAKE YOU BURN. I don't pretend to know much about how an actual MC operates, nor have I ever watched Sons of Anarchy, but there was enough here for me to understand the world of the Deacons and how they fit into the New Orleans hierarchy. There's plenty of world building here to set things up for the rest of the series, which includes the introduction of three secondary characters who are clearly going to be the starring heroes of their own books to come.
But really, the greatest appeal of MAKE YOU BURN for me wasn't the slow-developing suspense plot, nor how Ajax and Sophie were eventually able to work through all the issues that threatened to keep them apart. It was every intimate scene that featured just the two of them from the beginning of the book through the "one year later" epilogue. Sex between Ajax and Sophie is as down and dirty as any you could find in erotic romance, and it was all I could do not to fan myself each time they came together. Even when they ventured into public sex that I'd imagine would get them arrested in the real world, I was riveted to the point of becoming resentful when the actual plot intruded.
If you love a dirty talking hero and a heroine who gives as good as she gets in the bedroom (and the living room floor and the bar and the alley outside the bar…) then MAKE YOU BURN will not disappoint. Everything beyond that is just a bonus. I only hope that the other authors in this series can keep up with the high bar that's been set in this first book, and I can't wait to see how they do it.