I received this book for free from the publisher in exchange for an honest review. This does not affect my opinion of the book or the content of my review.
This book may be unsuitable for people under 17 years of age due to its use of sexual content, drug and alcohol use, and/or violence.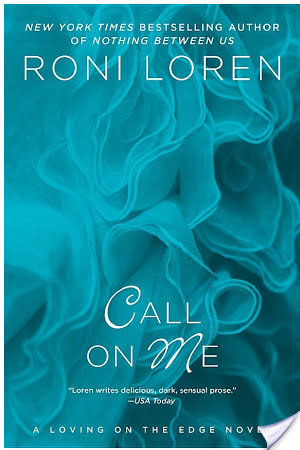 Call on Me
by
Roni Loren
Series:
Published by
Penguin
on July 7th 2015
Genres:
BDSM
,
Contemporary
,
Contemporary Women
,
Erotic Romance
,
Erotica
,
Fiction
,
Romance
Pages:
448
Goodreads
The new Loving on the Edge novel by the New York Times bestselling author of Nothing Between Us and Need You Tonight… Oakley Easton wants two things: to be a good mom to her daughter and to ditch her less than ideal night job. Hooking up with bad boy drummer Pike Ryland? Not on the agenda. She needs a promotion. Not sex, tattoos and rock 'n' roll.Pike isn't about to let Ms. Prim and Proper shut him down so easily, especially when he stumbles upon Oakley's sexy night job. She's only playing a role on those late night calls with strangers, but when he gets her on the line, all bets are off. He won't stop until that sultry voice is calling his name for real.But as they move from anonymous fantasies in the dark to the flesh-on-hot-flesh reality of the bedroom, the risk of falling in love becomes all too high. And the safe, quiet world that Oakley's worked so hard to create is about to be exposed to the one person who could ruin it all.
When I first got back into reading romance a few years ago, one of the authors recommended to me was Roni Loren. The book was CRASH INTO YOU, an erotic romance thriller, and I was hooked from the start. Seven books and one serial later, CALL ON ME continues the Loving On The Edge series tradition of mixing erotic romance with suspense, even as the suspense here is significantly less violent and more nuanced than in the first book that started it all.
Readers of this series already got to meet Pike Ryland, the super sexy and successful rock drummer, when he was hanging out with his buddy Foster as that gentlemen discovered lasting love with the lady next door. Now Pike is about to find his own HEA where he least expects it, but only once he realizes the rock star persona that brings the ladies to his door is what's pushing her away.
Oakley Easton went through the music industry wringer and came out on the other side a different person. The last thing she needs in her precariously balanced life is a musician, even if he's the first guy to give her any kind of thrill since before her daughter was born. Still, neither Pike nor their attraction can be denied, and as Pike and Oakley grow closer, so does her most feared danger following in his wake.
One of my favorite things about CALL ON ME was how the suspense wasn't the usual external murderous threat existing solely to push the hero and heroine closer. It was more about all the fears Oakley had to confront every day, constantly juggling her time between dealing with her daughter's needs and finding money to pay all their bills. Even when Oakley's greatest nightmare finally comes true, she confronts the peril directly, singlehandedly saving both her daughter and herself with Pike serving only as an approving bystander.
The other great feature of this book is also what I've loved in each book of this series — a heroine who embraces her sexuality fully as the hero comes to terms with how his own wants and desires can fit within the relationship they are building together. Oakley may not advertise the nature of her second job, but she's also not going to apologize for it to Pike or anyone else, because she knows best what she can do to earn more money while raising her daughter without anyone else's help. It's Pike who needs to grow up and see Oakley as the woman strong enough to be both his submissive and his love without reservations or regrets, and the result made me both swoony and teary-eyed. CALL ON ME shows that this long running series is just as good now as it ever was. I'm not sure what the next book will bring, but I can't wait to read it.