I received this book for free from the publisher in exchange for an honest review. This does not affect my opinion of the book or the content of my review.
This book may be unsuitable for people under 17 years of age due to its use of sexual content, drug and alcohol use, and/or violence.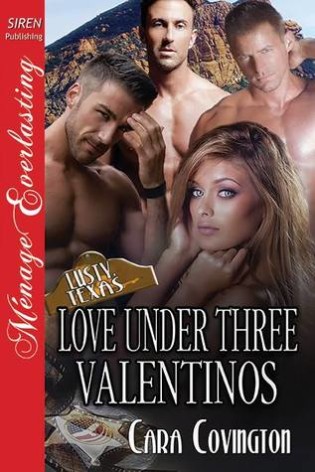 Love Under Three Valentinos
by
Cara Covington
Series:
Lusty, Texas #27
Published by
Siren Bookstrand
on June 19, 2015
Genres:
BDSM
,
Contemporary
,
Erotic Romance
,
Fiction
,
Romance
Format:
eBook
Goodreads
If you've never read any books from the publisher Siren-Bookstrand before, you might not realize that they publish dozens of different erotic romance series featuring small towns with interesting names and a preponderance of ménage relationships. (Although many of these relationships involve blood siblings and/or cousins, the standard Siren-Bookstrand disclaimer that there is no sexual relationship or touching for titillation between relatives always holds.) Not everyone will appreciate a visit to Lusty, Texas, or Bliss, Colorado, or Luscious, Kansas, but for those who do, these books can be as enjoyable as any other long-running small town romance series.
Of all the Siren-Bookstrand series I've been reading for the past few years, I have to say Cara Covington's Lusty, Texas is one of the best. It's hard to believe, but LOVE UNDER THREE VALENTINOS is the twenty-seventh book set in the tiny but fascinating fictional Texas town of Lusty. You would think after all those books that this series would have regressed long ago to mere formula and cardboard characters, and yet I was pleased to discover a story that is easily one of my favorites. I'm fairly certain it can work as a standalone, but since I've read all the previous books, I might not be the best judge.
Faithful readers of this series already met bounty hunter Kat Lawson in the last book when she helped capture the latest villain bent on vengeance when he was foolish enough to show up in Lusty. What we saw back then only hinted at the friendship she'd already established with the Jessop brothers back in Los Angeles, but it was obvious the men were hoping for more with her one day. Now that her job has gotten her noticed by L.A.'s most dangerous gang leader, Kat realizes that she needs the three brothers more than she'd like to admit, and not just to keep her alive.
I'm a huge fan of this series, so I was almost certain that I'd enjoy LOVE UNDER THREE VALENTINOS but what I found surprising was how the suspense plot was more developed and interwoven with the romance than in the past several books. I'm always skittish about when the heroine is placed in physical danger as a way to bring her closer to her romantic interest, but the threat to Kat is balanced well with how her desire for the Jessop brothers becomes something she can no longer ignore. Of course there's no uncertainty on the part of the Jessops, as we already know by now that when men in the extended Kendall-Jessop family find their woman, they fall instantly, completely, and for good. But that's a comfort here when Kat needs that unconditional love to find the healing she's been missing in her life. Unrealistic? Likely. Fun to read? Definitely.
In any case, if you love a small town romance and you'd like to mix it up with ménage and just a touch of BDSM, then LOVE UNDER THREE VALENTINOS is for you. As the saying goes, people who like that sort of thing will find this to be the sort of thing they like. And I liked it quite a lot.