I received this book for free from the publisher in exchange for an honest review. This does not affect my opinion of the book or the content of my review.
This book may be unsuitable for people under 17 years of age due to its use of sexual content, drug and alcohol use, and/or violence.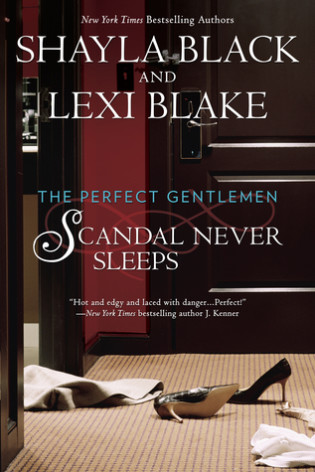 Scandal Never Sleeps
by
Lexi Blake
,
Shayla Black
Series:
The Perfect Gentlemen #1
Published by
Berkley
on August 18, 2015
Genres:
Contemporary
,
Fiction
,
Romance
,
Romantic Suspense
,
Suspense
Pages:
400
Format:
eARC
From the New York Times bestselling authors of the Masters of Ménage series . . .

They are the Perfect Gentlemen of Creighton Academy: privileged, wealthy, powerful friends with a wild side. But a deadly scandal is about to tear down their seemingly ideal lives . . .

Maddox Crawford's sudden death sends Gabriel Bond reeling. Not only is he burying his best friend, he's cleaning up Mad's messes, including his troubled company. Grieving and restless, Gabe escapes his worries in the arms of a beautiful stranger. But his mind-blowing one-night stand is about to come back to haunt him . . .

Mad groomed Everly Parker to be a rising star in the executive world. Now that he's gone, she's sure her job will be the next thing she mourns, especially after she ends up accidentally sleeping with her new boss. If only their night together hadn't been so incendiary—or Gabe like a fantasy come true . . .

As Gabe and Everly struggle to control the heated tension between them, they discover evidence that Mad's death was no accident. Now they must bank their smoldering passions to hunt down a murderer—because Mad had secrets that someone was willing to kill for, and Gabe or Everly could be the next target . . .
I had to give up on this book at 58% after nearly giving up on it at 25%. I understand that as the first book in the series, there needs to be a certain level of background setup, but it made for an incredibly slow start. Meanwhile the hero and heroine seemed to be going through a romantic suspense checklist, checking off each thing expected in such a story. One weekend no-names stand leading to the big reveal of their individual relationships to the murder victim – check. Someone still trying to kill them and/or cover up the trail to the murderer – check. Wild passionate sex even as all this is going on – check. Heroine getting the entirely wrong idea about the hero's motives just after thinking how she was going to trust him with everything she was planning to do without him to find the murderer – check. And that's when I checked out. This book is more suspense than romance, and that makes it not a book for me. Your mileage, as always, may vary.