I received this book for free from the publisher in exchange for an honest review. This does not affect my opinion of the book or the content of my review.
This book may be unsuitable for people under 17 years of age due to its use of sexual content, drug and alcohol use, and/or violence.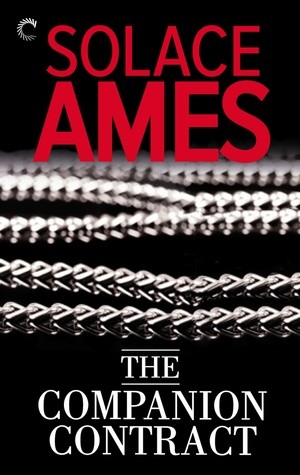 The Companion Contract
by
Solace Ames
Published by
Carina Press
on February 9th 2015
Genres:
Contemporary
,
Erotica
,
Fiction
,
General
,
Multicultural & Interracial
,
Romance
Pages:
169
Format:
eARC
Goodreads
Control. Submission. Power.Amy Mendoza knew she'd never have a Cinderella story. She walked away from the ashes of her childhood on her own, and signed her first porn contract the day she turned eighteen. The money's been good, but it's time to walk away again before the life drags her down. When a mysterious stranger offers her an unusual contract—sexual companion to a recently relapsed rock star—she accepts.Amy quickly and gratefully falls into an easy rhythm of control and submission—but it's not her client who keeps her up at night. Emanuel, lead guitarist and the man who hired her, occupies her thoughts—and soon, her bed. Their connection is intense, and although Amy knows sleeping with Emanuel isn't what she's there for—isn't what she's being paid for—what's between them is too strong to ignore. But there's more to Emanuel than Amy knows, and submitting to him might come at too high a price…89,000 words
This review originally appeared at Romancing Rakes for the Love of Romance.
THE COMPANION CONTRACT is the latest entry in Solace Ames's excellent LA Doms series, and although it ended up being a good read for me, it wasn't nearly as good of a romance as her previous stories.
In this story, we meet Amy Mendoza, who lost her entire family to deportation at the age of thirteen, forcing her into life choices that no child should ever have to make. Now eight years later, the world knows her only as the porn star Serena Sakamoto, and she's made the most of what life has dealt her in order to stay alive and send money back to her family in the Philippines. But when Amy's good friend Chiho needs rescuing from a Hollywood party gone wrong, the man who helps them out might end up being the one person Amy can count on to be there for her when nobody else ever has.
Emanuel de la Isla experienced the best and worst of life as he moved from a violent upbringing in South America to incredible success as part of the seminal rock band Avert. When he witnesses Amy's strength in handling pressure under fire, he realizes she's the perfect person to keep track of Avert's problem lead singer as the band attempts a long awaited reunion album and tour. As Amy becomes indispensable to the success of the band's future, it becomes all too obvious that she's just as crucial to Emanuel's happiness as he is to hers. But when the band's planned future derails yet again, it remains to be seen if Amy and Emanuel's love can survive outside the protected bubble they'd created together.
As with the other books I've read by Solace Ames, I was struck by the richness and elegance of how she structures her stories and develops her characters. No matter how unlike the events and people she writes about are with respect to my own life, I am always able to fully relate on an emotional level to what her characters are feeling and experiencing. In THE COMPANION CONTRACT, our heroine is a porn star who deliberately chose this career on her 18th birthday because she knew it was her best option to make enough money to support herself and her distant family. She falls in love with an albino Afro-Colombian who is the lead guitarist of the band she loved best as a teenager, and becomes the close friend of both the band's lead singer, who has ongoing problems with drug addiction, and the trans woman he loves but cannot have. All of these characters are fleshed out beautifully and their interactions with the hero and heroine are both organic and essential. By the end of the story, each character is in a better place than they started, and optimistic that they will continue to be happy.
Yet, as a romance first and foremost, THE COMPANION CONTRACT missed the mark somewhat for me. Although I believed in Amy and Emanuel's love, it was often pushed aside in favor of the various dramas associated with Miles, Avert's unreliable lead singer, and Xiomara, the trans woman important to both him and Emanuel even as she was still learning how to live as her true self. And with the story told entirely from Amy's first person POV, it was difficult for me to understand what motivated Emanuel beyond caretaking of his loved ones and a sexual pull toward Amy that she shared in return. That also affected my reaction when Emanuel and Amy were briefly separated, as she worried he wouldn't return even though he swore he would, and I wondered why she didn't believe him when I'd never seen any reason why he would lie.
Still, THE COMPANION CONTRACT is a lovely read overall and if you're good with the romance being equal to other parts of the story, then you shouldn't have any problems. Either way, I'm still a fan of Solace Ames and look forward to what she'll be writing next.
Favorite Quote:
I wasn't a beggar or a queen. I had room in my heart to love everyone who stayed behind.
I was only myself.
And that was enough.