I received this book for free from the publisher in exchange for an honest review. This does not affect my opinion of the book or the content of my review.
This book may be unsuitable for people under 17 years of age due to its use of sexual content, drug and alcohol use, and/or violence.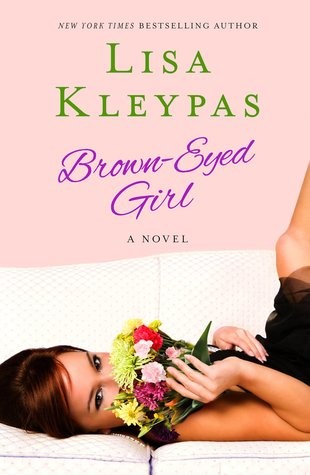 Brown-Eyed Girl
by
Lisa Kleypas
Published by
Little, Brown Book Group Limited
,
St. Martin's Press
on August 11th 2015
Genres:
Fiction
,
Romance
Pages:
304
Format:
eARC
Goodreads
Wedding planner Avery Crosslin may be a rising star in Houston society, but she doesn't believe in love--at least not for herself. When she meets wealthy bachelor Joe Travis and mistakes him for a wedding photographer, she has no intention of letting him sweep her off her feet. But Joe is a man who goes after what he wants, and Avery can't resist the temptation of a sexy southern charmer and a hot summer evening.

After a one night stand, however, Avery is determined to keep it from happening again. A man like Joe can only mean trouble for a woman like her, and she can't afford distractions. She's been hired to plan the wedding of the year--a make-or-break event.

But complications start piling up fast, putting the wedding in jeopardy, especially when shocking secrets of the bride come to light. And as Joe makes it clear that he's not going to give up easily, Avery is forced to confront the insecurities and beliefs that stem from a past she would do anything to forget.

The situation reaches a breaking point, and Avery faces the toughest choice of her life. Only by putting her career on the line and risking everything--including her well-guarded heart--will she find out what matters most.
BROWN-EYED GIRL might be one of the most anticipated romances of 2015, as it's the long awaited follow-up to the popular Travis Family series by Lisa Kleypas. I've read and enjoyed several of her historical romances but as hard as it might be to believe, this is my very first Lisa Kleypas contemporary read. So while the target audience for BROWN-EYED GIRL might be all the readers who've been waiting for Joe Travis to get his own HEA, I came into this story with no expectations whatsoever, and I think that might be why it was ultimately a good read for me.
Our titular heroine is Avery Crosslin, a woman who has had to rise above so many personal obstacles to achieve success in her job, if not in her personal life. Much like the terrible example set by her own parents, Avery has been horribly disappointed in love. But instead of letting that ruin her life entirely, she's set aside the entire notion of a romantic relationship with anyone, preferring to channel all her energy into becoming the best wedding planner Houston ever had. When she stumbles across a gorgeous and friendly guest at her latest high-stress wedding event, it's all she can do to allow herself just one perfect night of passion with a man she never expects to see again. But when he's determined to go on as they've begun, Avery has to reconsider everything she thinks she's learned about success, happiness, and love itself.
Even though I had no familiarity with the Travis family members before reading BROWN-EYED GIRL, their history was presented quite well throughout the book. In fact it was so thorough that I occasionally wondered if readers with greater knowledge of the series might become annoyed with all the explanations. In any case, I appreciated the attention to necessary detail, and I was never lost as a new reader to the series.
What I did find troubling in BROWN-EYED GIRL was the reliance on Avery's intermittent resistance to Joe's pursuit as a plot device for the bulk of the story. After all, if Avery gives in too soon to what she knows is true – that Joe loves her and she loves him – then the book would be over. So most of the interaction between them boils down to Joe making an overture, Avery seeming to accept it, and then Avery getting scared and running away again (figuratively and literally). I was honestly starting to wonder why Joe was so determined to win her over. We really don't get much information about why he's so attracted to Avery, yet he continues to press his suit right up until the moment when she proposes the possibility of a long-distance relationship. It's only then when we see him waver, and when Avery finally realizes what she's about to throw away, finally giving us the HEA we and they both need.
When Joe and Avery were together and fully present in their intermittent moments of genuine affection is when BROWN-EYED GIRL had me hooked, and that's what kept me reading until the very end. I'll leave it to others to determine whether this book works as a worthy follow-up to the rest of the Travis Family series. But as a standalone story, it's a perfectly nice romance on its own merits and I enjoyed reading it on those terms.