I received this book for free from the publisher in exchange for an honest review. This does not affect my opinion of the book or the content of my review.
This book may be unsuitable for people under 17 years of age due to its use of sexual content, drug and alcohol use, and/or violence.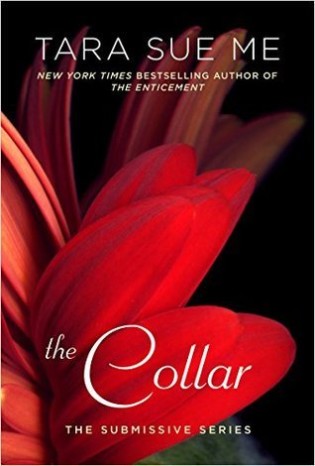 The Collar
by
Tara Sue Me
Series:
Submissive #5
Also in this series:
The Enticement
Also by this author:
The Enticement
Published by
Penguin
,
Penguin Publishing Group
on July 7th 2015
Genres:
BDSM
,
Contemporary
,
Contemporary Women
,
Erotic Romance
,
Fiction
,
Romance
Pages:
336
Goodreads
The New York Times bestselling author of The Submissive returns with a scintillating new tale about power, danger, and jaw-dropping passion.... Nathaniel and Abby are struggling to navigate the challenging waters of their own relationship, when they get a surprising phone call from their partners in play, Dena and Jeff, who are in need of a helping hand… Seven years ago, blonde, beautiful lawyer Dena Jenkins was tired of her carefully controlled life. Desperate for something exhilarating to help her escape the pressures of her demanding job and her senator father, she joined a steamy, local BDSM club as a submissive. There she met brooding Dominant, Jeff. The attraction between them was undeniable, and, despite Dena's doubts, they couldn't stay away from each other. Except, as the years have passed, their blazing connection has proven difficult to maintain. Dena and Jeff have a history they'd rather forget, but Dena can't let go of the past, and Jeff is ready to move across the country to give her space. Now, to save their passion, they'll have to rediscover what it means to trust each other—and give themselves to each other completely.

https://www.rafflecopter.com/rafl/display/984c05ae24/
THE COLLAR is the fifth book in Tara Sue Me's excellent Submissive series and the first where the main focus is not on the couple who have been the center of the ongoing story. Jeff and Dena were both introduced briefly in the previous book, THE ENTICEMENT. Now in THE COLLAR we get to discover their backstory and see them find their way back to each other again with the help of Nathaniel and Abby, as well as the somewhat opportune timing of a surprise stalker.
It's clear from the start that Jeff and Dena were meant to be together before something terrible came between them. At first I thought the problem would be related to the different worlds from which they came. Dena was raised in the lap of luxury and privilege thanks to her father's elevated status in political circles. Jeff's origins were much lower and less pleasant, and it seemed as though he'd never stop thinking he wasn't worthy of her. Yet when they met at the local BDSM club, her submissive nature and his Dominance fit perfectly together, and the love they found together seemed invincible. But now it's years later and whatever broke them up still appears to be keeping them apart. As much as it kills him inside, Jeff is getting ready to move far away for good, in the mistaken belief that it's the best decision for them both. It's only when a sudden threat to Dena's safety appears that Jeff realizes he must stay and protect her at any cost, even if it means reopening old wounds and confronting what stands between them once and for all.
I was concerned at first when I realized Nathaniel and Abby would not be the central couple of THE COLLAR but was soon placated by how seamlessly their story is woven into that of their new friends Jeff and Dena. We already know how great Jeff is by how he saved Abby in THE ENTICEMENT and the great trust that Nathaniel has placed in him. We also soon see that Dena isn't the entitled rich girl one might expect with her upbringing. It's only when Dena is with Jeff that she's truly happy, and the same is true for him. But it's quite obvious that the pain that stood between them would have won if it wasn't for the person who suddenly starts threatening Dena's life.
Normally when this type of suspense plot is used to bring the hero and heroine together I get worried that it will take over entirely, but in THE COLLAR the suspense serves the romance, not vice versa. Even when I was able to figure out the culprit, I didn't much care because that subplot was just the excuse needed to keep Jeff with Dena long enough for them to deal with all the misunderstandings that had kept them apart. So much of THE COLLAR is Jeff and Dena recalling the past and working together to get beyond it, and that's what I loved the most about this book. But we still get enough Nathaniel and Abby so that it's their story as well, and that's why THE COLLAR is yet another great entry in the Submissive series for me.