I received this book for free from the publisher in exchange for an honest review. This does not affect my opinion of the book or the content of my review.
This book may be unsuitable for people under 17 years of age due to its use of sexual content, drug and alcohol use, and/or violence.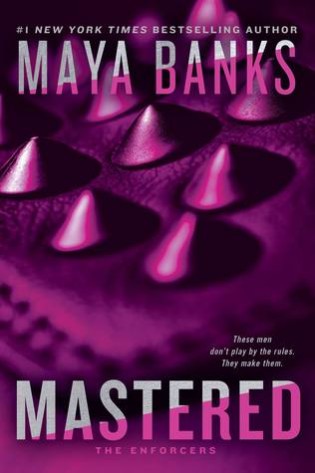 Mastered
by
Maya Banks
Series:
Enforcers #1
Published by
Penguin Publishing Group
on December 29th, 2015
Genres:
BDSM
,
Contemporary
,
Erotic Romance
,
Fiction
,
Romance
Pages:
368
Format:
eARC
Goodreads
The #1 New York Times bestselling author of the Surrender Trilogy and the Breathless Trilogy knows what makes readers hot. Now she turns it up in Mastered, the explosive first book in a new series of a desire too dangerous to resist.   What he wants, he takes with no remorse or guilt.   She stood out in his club like a gem, unspoiled and untouched. A lamb among wolves, she clearly didn't belong. Drawn to her innocence he watched as she was surrounded by men who saw what he did--but no one but him could touch her. He summoned her to his private quarters. He sensed her fear. He also recognized the desire in her eyes. And he knew she wouldn't leave before he possessed her. She had no need to know his secrets. Not until he had her under his complete and utter control.   What he wants, she isn't sure she can give him.   The moment he told her want he wanted, she couldn't resist. Instinct told her to run, but her heart said stay and walk the fine line between pleasure and pain. Though she wasn't sure she could ever completely surrender, the primal part of her wanted to try, even knowing this man could break her in ways she never imagined. Because once he possessed her, he owned her and it would be too late to turn back. She can only pray that he doesn't destroy her in the end.
Warning: This review contains spoilers for Mastered. The major one is in a spoiler space section, but if you don't want to know any actual details about this book, stop reading now.
Some people on the Internet seem to think that we amateur book reviewers love to write nasty negative reviews about books just for the evil fun of it. The reality, however, is entirely the opposite. And when the book in question is by a beloved author, the feeling isn't so much glee as it is intense sadness and disappointment.
It is with that feeling of great dismay that I am writing this review. Mastered is the first book in the new Enforcers series by Maya Banks, one of my all time favorite authors. I've read and enjoyed so many of her erotic romance series that I jumped at this review opportunity even though this blog is still technically on hiatus until next year. And yet Mastered is such a huge departure from what I have come to rely on in a Maya Banks erotic romance that I'm still reeling at how very wrong it went for me.
The premise of Mastered is simple and familiar:  innocent heroine crosses paths with dangerous dominant hero who must have her at all costs. Evangeline was seduced and abandoned by a no-good jerk and now she's at Impulse, the hottest club in town, to prove she's over him. But when the no-good jerk shows up to physically confront our heroine, the all-powerful club owner Drake Donovan comes to her rescue, only to capture her for himself until it all goes horribly wrong at the end of the book.
Wait, what? you say. Horribly wrong? Well, yes. Because Mastered ends on a wrenching cliffhanger and you're going to have to wait until the next book is released to get the rest of Evangeline and Drake's story. This information was posted on the author's Facebook page earlier this year, but it isn't anywhere in the book listing or promo materials. To her credit, she has included a lengthy explanation/apology at the end of the book, and I recommend you read it before deciding whether or not to continue with the story itself.
But honestly, for me the incomplete story wasn't the main reason Mastered was such a disappointing read. There are two more compelling reasons, one of which appears in a spoiler tag further down. But the other one permeates the entire book so thoroughly that even if the story was complete, I'd still have problems recommending it.
For in Mastered, our heroine Evangeline is presented not as a normal human adult woman with both positive and negative attributes. Instead she is the perfect combination of Pollyanna, Marilyn Monroe, and Mother Teresa that no man (other than the no-good jerk who took her virginity for kicks) can resist. She projects a relentlessly positive attitude no matter how dire her situation, yet is constantly in denial about how every man (except that one guy) is drawn to her innate goodness and powerful (yet entirely innocent) sexual allure. She immediately agrees to give up her impoverished yet independent life to a man she's known for about fifteen minutes, one whose first interaction with her is to engage in heated oral sex in his office after rescuing her from the no-good jerk. And as every man (other than the first guy) continues to fall at her feet throughout the story, every woman is compared to our heroine and found wanting.
This, in a nutshell, is the main problem I had with Mastered —  that Evangeline is constantly presented as the epitome of acceptable womanhood and every other woman in the book (other than her mother in a brief cameo) is presented as not worthy to kiss the heroine's feet. Indeed, the first time we see our hero, he is forcibly removing a woman from his club who had bribed one of his workers to sneak her in so she could throw herself at the hero, calling her a skank for good measure. Then when the no-good jerk who deflowered and dumped our heroine appears at the club with his new squeeze in tow, she's just as awful and unsavory as the woman tossed out by our hero only moments earlier.
This insidious attitude toward other women would annoy me in any romance novel, but in a Maya Banks book it was especially disappointing. In so many of her other erotic romance books, notably the Sweet series and Breathless series, the heroines all had great women friends who were just as worthy of being liked and admired, and who often ended up as heroines themselves. But here in Mastered, other women who are not blood relatives of the heroine are denigrated and tossed aside when they're no longer needed. The worst example of this occurs just after one of Evangeline's former "best friend" roommates warns her in no uncertain terms not to get mixed up with the hero. Instead of the hero sharing his own doubts about whether he's capable of being a good person for the heroine (which we already know about from his internal monologues), he declares the former BFF to be a "jealous bitch." Yet the heroine wouldn't have even met the hero if that same "jealous bitch" hadn't magically acquired a VIP pass to Impulse and given it to the heroine. This distinct lack of respect for any women who aren't the heroine is simply not what I've come to expect and enjoy in a Maya Banks book, and I'm still distressed about how prevalent it was in this one.
There are a lot of other reasons why Mastered didn't work for me, such as how every deadly henchmen on the hero's staff instantly declares himself ready to save the heroine when (not if) the hero screws things up with her, or how both the hero and heroine spend more time in long internal monologues on how they feel about their situation than they do actually sharing those feelings with each other.
But all those pale to the other reason why I cannot recommend Mastered, and as the catalyst for the cliffhanger, it's the biggest spoiler of the book.
SPOILER SPACE
The hero has unsavory gangster types coming over to his apartment for a private meeting so he convinces the heroine to go out with her ex-roommates for the evening to keep her safe. But when her ex-roommates understandably don't want anything to do with someone who had ditched them completely since she'd met the hero, the heroine decides to surprise the hero by cooking a full gourmet dinner for him and his associates. After all, he never told her they were too dangerous for her to meet, so why shouldn't she? When they arrive to find her waiting, the hero decides the best way to keep her safe is to not only verbally assault her in the worst possible way, but also to force her to fellate him in front of the other men.
That's right – the hero sexually assaults the heroine to protect her from additional sexual assault by others.
Then after they all depart to eat dinner elsewhere, the heroine leaves the hero to take a job at a hotel run by the sister of the doorman at the hero's building, the doorman being yet another random man who has immediately fallen for the heroine.
END SPOILER SPACE
This was the last straw for me and Mastered. Your mileage may vary, but everybody has their hard limits on what is acceptable in a romance novel, and that crossed the line for me in no uncertain terms. If the rest of Evangeline and Drake's story had been in this book instead of continued in a future one, I still wouldn't have read past where this book ends. Thanks to the nature of this cliffhanger, I have absolutely no interest in how the hero and heroine recover from what has happened between them. I can only hope that future Maya Banks books will get back to what has always made them great for me before – a hero and heroine with a genuine loving relationship in a world where both men and women are valued equally.