I received this book for free from the publisher in exchange for an honest review. This does not affect my opinion of the book or the content of my review.
This book may be unsuitable for people under 17 years of age due to its use of sexual content, drug and alcohol use, and/or violence.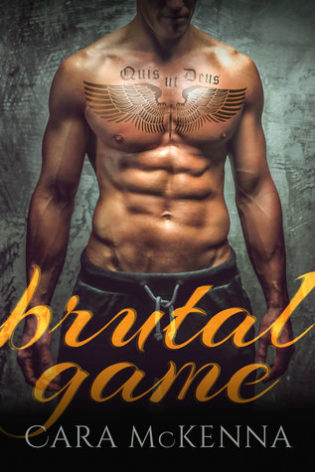 Brutal Game
by
Cara McKenna
Series:
Flynn and Laurel #2
Also by this author:
Crosstown Crush
,
Downtown Devil
,
Midtown Masters
Published by
Self-Published
on 11/22/2016
Genres:
Erotic Romance
,
Romance
Format:
eARC
Goodreads
The long-awaited sequel to Willing Victim.

Eight months ago, Laurel walked into an underground boxing gym and found herself mesmerized by a stranger named Flynn—a man who fights hard and loves harder. Since then he's taken her places where fear and curiosity clash in exquisite pleasure, where trust is the price of ecstasy, and in time their brutal games have become her kink as much as his.

But when real life intrudes and hard decisions demand action, will these two whose bond is rooted in fantasy take shelter in each other's arms, or discover that lust is no substitute for a lasting commitment?
This review may contain spoilers for WILLING VICTIM. You could try to read BRUTAL GAME as a stand-alone, but don't. The two connect together too well to only read one.
It's no small task to write a story that people love. But to then, years later, write a sequel that is equally well received is an even more unlikely outcome. And yet BRUTAL GAME is that mythical unicorn – a follow up to the widely praised and highly influential novella WILLING VICTIM that not only lives up to the original but gives it extra meaning by extending and expanding what was a brief encounter to a full fledged Happily Ever After.
In WILLING VICTIM, a young woman saw a man who intrigued her, made the first move, and was rewarded with an experience so unexpected, so viscerally intense, that both she and the readers were forever changed. What she shared with the man might be romance, at least for the moment, but could become love, if only we could see what happened next. Now readers clamoring for more Laurel and Flynn have exactly that in BRUTAL GAME – the rest of their story and how they found the HEA we always knew they deserved.
BRUTAL GAME shows us both the best and worst moments of what Laurel and Flynn must confront before they can be truly happy together as a real couple, and it's tougher and more complicated than anything they've dealt with before. The games they play in bed brought them together, but it's real life and death that could tear them apart. We see what plagues them both in private moments and how they learn to communicate their emotional needs as well as their physical ones. It's a tough read in parts, but entirely genuine and moving, with an ending as worthy as what preceded it.
If you were a fan of WILLING VICTIM, you have to read BRUTAL GAME. It's the rare sequel that justifies the existence of sequels.