I received this book for free from the publisher in exchange for an honest review. This does not affect my opinion of the book or the content of my review.
This book may be unsuitable for people under 17 years of age due to its use of sexual content, drug and alcohol use, and/or violence.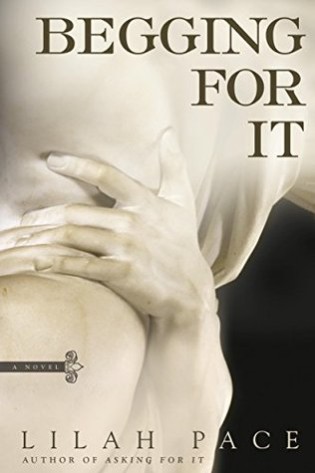 Begging for It
by
Lilah Pace
Series:
Asking For It #2
Also in this series:
Asking for It
Also by this author:
Asking for It
Published by
Penguin
on September 1st 2015
Genres:
Contemporary
,
Erotic Romance
,
Fiction
,
General
,
Romance
,
Romantic Suspense
Pages:
352
Format:
eARC
Goodreads
The provocative author of Asking for It once again explores the dark side of erotic obsession, and the secrets that make it as dangerous as it is irresistible.Some secrets should only be shared in the dark.Jonah and Vivienne's erotic bond—living out raw scenarios of captivity and force—began as no-strings sex between strangers who shared the same desires. Now the intimacy between them is turning into love, but it's a love built on fantasies so extreme that exploring them makes guilt inescapable. But the risks they're taking are far more dangerous than they'd imagined.A stalker is terrorizing the city, and one of Jonah's ex-lovers names him as a potential suspect to the police. Standing by a man under suspicion could cost Vivienne everything. But when Jonah's stepfather takes advantage of the scandal to seize control of the Marks family fortune, Vivienne is drawn into her lover's broken family and twisted past. Only then will she learn how dark the truth really is...
This review may contain spoilers for ASKING FOR IT. You could try to read BEGGING FOR IT as a standalone, but don't. It won't be half as good that way.
Earlier this year when I read ASKING FOR IT, I declared that not only was it the best book I'd read all year but that the only book that could possibly come close to being as good would have to be its sequel, BEGGING FOR IT. And it's true. Everything I'd hoped to find in this book was there, and the ultimate happy ending for Jonah and Vivienne is even sweeter after they triumph over everything thrown in their path to stop them.
The story in BEGGING FOR IT picks up not long after Jonah has walked away from Vivienne to save himself from their shared need to act out the past violence in their lives as part of their sexual relationship. Still, the desire and love between them can't be denied, and soon they're back together with the understanding that they must proceed with caution and plenty of therapy to help them stay on a mentally healthy path. When sudden violence in their community drags Jonah in as a suspect, the national coverage gives Jonah's evil stepfather the opening he's been wanting to ruin Jonah for good. In an average romantic suspense, this plot device would be leveraged merely for final confrontation of the evil stepfather. But what elevates BEGGING FOR IT is how this development allows Jonah to confront his own emotional damage in the same way Vivienne did in the previous book. And in the same way Jonah helped save Vivienne in ASKING FOR IT, here in BEGGING FOR IT she saves both him and their future together.
If ASKING FOR IT was a time bomb ticking toward an inevitable explosion, then BEGGING FOR IT is a live hand grenade ready to go off at any minute. The knife-edge tension starts from the very first page and never lets up for a moment until the very end. Even early scenes that seem innocuous before the completely happy ending are actually anything but, especially on a second read. It's rare that I completely love any romantic suspense story the first time through, let alone ever bother reading a second time. For me BEGGING FOR IT was that good – the exception that proves the rule. And together with ASKING FOR IT, it's easily the best romance of the year for me so far.