The Last Good Knight by Tiffany Reisz
An Original Sinners novella told in five parts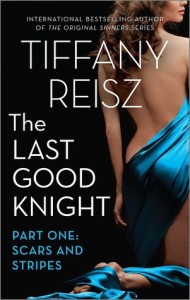 Scars and Stripes by Tiffany Reisz
My rating: 5 of 5 stars
It's lust at first sight when Mistress Nora encounters a sexy newcomer to The 8th Circle. She's happy for the distraction, since she left her lover, Søren, but her session with Lance is cut short when her boss, Kingsley Edge, reveals they're all in danger….
My rating: 5 of 5 stars
With a potential stalker on the loose, Kingsley hires Lance as Nora's bodyguard, but stipulates no sex while he's on duty. Frustrated by the ex-SEAL's noble chivalry, Nora is driven to seek release with the one man she's trying to forget….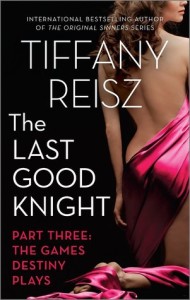 The Games Destiny Plays by Tiffany Reisz
My rating: 5 of 5 stars
Shocked to see Nora's bruises, Lance is furious that she put herself in danger and demands to know where she got them. As Nora confesses her true nature, she's equally shocked to learn that Lance has some secrets of his own, drawing them together despite Kingsley's orders….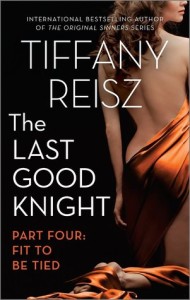 Fit to Be Tied by Tiffany Reisz
My rating: 5 of 5 stars
With her feelings for Lance warring with her recent encounter with Søren, Nora returns to Lance's bed and finds herself toying with the idea of…toying with him on a permanent basis. But after she gets a glimpse into his personal angst, Nora realizes she has the power to rescue this white knight….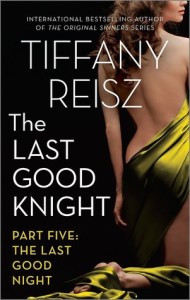 The Last Good Night by Tiffany Reisz
My rating: 5 of 5 stars
Now that the perpetrator has been apprehended, Nora sadly acknowledges she doesn't need a bodyguard anymore. She adores Lance and wants to keep him but is faced with a dilemma—if she uses her connections to help Lance, she'll have to give him up forever…
****************************************************************************************
Amazon US
Part I
Part II
Part III
Part IV
Part V
Barnes & Noble
Part I
Part II
Part III
Part IV
Part V
Author Bio & Contact Links:
Tiffany Reisz lives with her boyfriend (a reformed book reviewer) and two cats (one good, one evil). She graduated with a B.A. in English from Centre College in Danville, Kentucky and is making both her parents and her professors proud by writing BDSM erotica under her real name. She has five piercings, one tattoo, and has been arrested twice.
When not under arrest, Tiffany enjoys Latin Dance, Latin Men, and Latin Verbs. She dropped out of a conservative southern seminary in order to pursue her dream of becoming a smut peddler. Johnny Depp's aunt was her fourth grade teacher. Her first full-length novel THE SIREN was inspired by a desire to tie up actor Jason Isaacs (on paper). She hopes someday life will imitate art (in bed).
If she couldn't write, she would die.
Twitter: @TiffanyReisz https://twitter.com/tiffanyreisz
Facebook: https://www.facebook.com/littleredridingcrop
Website: http://www.tiffanyreisz.com/
****************************************************************************************
My Review:
It's no secret around these parts that I am a huge fangirl for Tiffany Reisz's Original Sinners. (Team Søren, in case you were wondering.) So despite my equally well advertised weariness with romance serials, I knew I had to get my grabby hands on her new five part Original Sinners serial, THE LAST GOOD KNIGHT. It tells a brief but memorable story of how Nora found some momentary solace in her 30th year on earth (and 2nd year separated from her first and only love) with a type of hero not seen too often in erotic romance: an alpha male submissive.
Lance is an ex-Navy SEAL who just got a job working security for the one and only Kingsley Edge in the infamous 8th Circle BDSM club where Nora is now the top earning Dominatrix. But for Nora, Lance isn't a job – he's a treat, and one she's deserved for quite some time. They share the beginning of what promises to be an amazing sexual encounter, when the one person who could enter Nora's inner sanctum uninvited arrives to whisk everyone away to the safety of Kingsley's townhouse. Another Dominatrix has been nearly beaten to death at a rival BDSM club, and the fear is that her attacker looking for others to harm in much the same way. Of course, Nora refuses to abandon her clients, so the next best compromise is for her to accept her own personal bodyguard until the culprit is found. And because Nora can never catch a break in such things, the bodyguard Kingsley's picked for her is Lance, with a strict "no sex" rule in place for the duration.
During its five part story arc, THE LAST GOOD KNIGHT provides a fascinating peek into Nora's life at a time not long after she left Søren but before the events of THE SIREN. It's obvious that Søren is still the only man for her, but that doesn't mean she's not going to take advantage of her time with Lance, a man who would never permit himself to behave in any way other than with honor, even to the detriment of his own happiness. Along the way, we meet a few members of Nora's eclectic clientele, and see how having a bodyguard can be a real advantage for her, especially when a new client gets himself placed on the No-Play list for gross disrespect and generally bad behavior. And as Nora and Lance form an emotional connection in lieu of a sexual one, we discover just how much Lance has sacrificed to protect the person most beloved to him. Once the danger to Nora is neutralized by one of my favorite Original Sinners, Griffin Fiske, she and Lance can finally have the many-splendored night they'd been prevented from sharing earlier. Their physical joining is just as spectacular as both they and we had anticipated, with a deeper level of intimacy that only strengthens their newly formed bond. But the true heart of THE LAST GOOD KNIGHT lies in the grave wrong done to Lance by his ex-wife and a society that refused to accept him for what he was, culminating in Nora's deliberate violation of Kingsley's number one rule in the name of justice, even at the cost of her own new-found joy.
I will always be Team Søren, but Lance gives him a run for his money in THE LAST GOOD KNIGHT. Lance may be submissive, but he is every inch an alpha male, and as the title reveals, a conscientious man who will always put those entrusted in his care first, no matter what the cost. He's also funny and sweet and so amazingly hot that any woman would be lucky to have him in her life in whatever capacity she could manage. And anyone who thought Nora unable to truly commit to a man other than Søren will have their assumptions tested when seeing her with Lance in their most intimate scenes. For THE LAST GOOD KNIGHT makes it clear that one day Nora will be able to collar her own exclusive submissive without compromising her love for Søren, even if the two of them appear to be irrevocably separated. Lance may have not been fated to be that lucky man, but one day her destined submissive will appear, and THE LAST GOOD KNIGHT shows us that Nora will be ready when he does. It's essential reading for lovers of the Original Sinners, and thanks to Harlequin MIRA releasing it all in a single week, you won't have to wait too long to get your complete fix. 5 stars for all 5 parts.

The Novel Tease
Related Posts