I received this book for free from the publisher in exchange for an honest review. This does not affect my opinion of the book or the content of my review.
This book may be unsuitable for people under 17 years of age due to its use of sexual content, drug and alcohol use, and/or violence.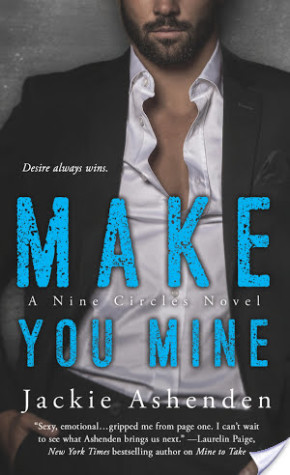 Make You Mine
by
Jackie Ashenden
Series:
Nine Circles #2
Published by
Macmillan
on May 5th 2015
Genres:
Contemporary
,
Fiction
,
Gothic
,
Romance
,
Suspense
Pages:
384
Format:
eARC
Goodreads
In the Nine Circles Club, one lucky man gets more than his share of money, power, and women--until he meets a beautiful opponent who plays in the name of love...in Make You Mine by Jackie Ashenden.He's raising the stakes.International playboy Alex St. James always plays to win. Whether it's betting on a high-stakes card game--or bedding a high-class socialite--the gorgeous world-class gambler knows how to beat the odds using his brains, his body, and a whole lot of charm. But there's one woman who's immune to Alex's bag of tricks--which makes her the perfect challenge...and the ultimate prize.She's going all in.Once a special operative in her native Russia, Katya Ivanov knows what kind of man Alex is. As his personal bodyguard, she's seen him seduce the richest women, place the riskiest bets, and break the hardest players. But to even a score from her past, she's willing to take a gamble on her reckless boss. Even if she has to pretend to be his lover. Even if he drives her mad with desire. And then she never wants this dangerous game to end...
This review may contain spoilers for MINE TO TAKE, the first book in the Nine Circles series. You could try to read MAKE YOU MINE as a standalone, but I wouldn't recommend it.

MAKE YOU MINE is the second book in Jackie Ashenden's romantic suspense series Nine Circles, telling the story of how another member of the "bleeped-up billionaires club" finds his own true love when he least expects it. And while the first book MINE TO TAKE was a great introduction to the Nine Circles world, MAKE YOU MINE took off like a rocket from where that story left off and didn't stop until I was breathless and crying for fictional characters like they were actually real.
Alex St. James has tried to protect himself and everyone else in his life by pretending not to care about anything except making money and pleasures of the flesh. Caring nearly killed him once, and he refuses to be vulnerable a second time. But when he needs his lovely bodyguard to be his pawn in a plot for revenge against the man who changed his life forever, Alex discovers that not only does he care, but that being cared for in return can be the greatest strength of all.
Betrayed by family and country, Katya found work as a bodyguard to an American billionaire playboy while waiting for news about the missing man she's promised to marry. She is paid to protect his body, but it's his soul that she worries about. As Alex's plan unfolds, only Katya's unswerving loyalty and Alex's last shreds of humanity stand between them and the loss of everything they both hold dear.
One of the things I love about Jackie Ashenden's stories is how her characters always pull at my heartstrings so brutally that I sometimes have to put the book down, but never so much that I won't immediately pick it back up again. And then just when I think it's reached the lowest point of what could possibly happen, she hits me with one more punch that leaves me both reeling and begging for more. in MAKE YOU MINE, Alex and Katya burn up the page every time they are together, even while a terrible menace hangs over them for most of the book. And as they each reveal their closest secrets to each other, that menace seems less threatening if only because they know that nothing can really hurt them as long as they have each other. The suspense plot brings them together, but it's their romance that propels the book and that's what makes it a romantic suspense I can wholeheartedly recommend. And with the overall Nine Circles storyline still unresolved, I'm even more eager to read YOU ARE MINE than I was to read this book.
Related Posts