I received this book for free from the publisher in exchange for an honest review. This does not affect my opinion of the book or the content of my review.
This book may be unsuitable for people under 17 years of age due to its use of sexual content, drug and alcohol use, and/or violence.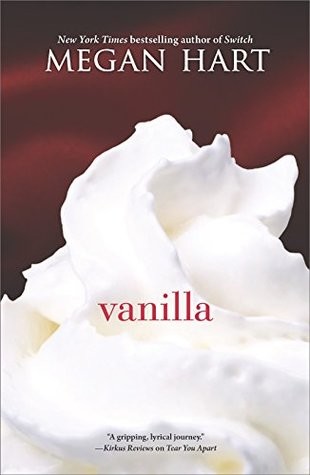 Vanilla
by
Megan Hart
Published by
MIRA
on February 24th 2015
Genres:
Contemporary
,
Erotica
,
Fiction
,
General
,
Romance
Pages:
352
Goodreads
It's an acquired taste…he just has to acquire it Elise knows what she wants in the bedroom, and she makes sure she gets it. Her thirst for domination has long been quenched by a stable of men only too happy to bow down before her. But sexual satisfaction isn't the same as love, and she's been burned in the past by giving her heart too freely. Niall is handsome, smart, successful and sweet—sweet as vanilla. When they meet, their romantic connection is electric, even though he's way on the opposite end of the kink spectrum. Despite how she fights it, Elise falls for him—but how can a relationship work when both lovers want to be on top?  "Hart wields her pen like a scalpel…in this soul-searching, emotionally sensitive story. Strong characterization and smooth, yet forceful, writing captures your attention and holds you hostage."  —RT Book Reviews on The Space Between Us
When I pick up a Megan Hart erotic romance, I know I'm going to get my heart broken, and all that's left to discover is how, and whether or not she'll put it back together again by the end of the book. What I got with VANILLA was heaping helpings of everything I love about her books, with a heroine not quite like any other she's written and a hero who more than lived up to that definition by how he overcame his own fears and misguided notions to be the man most worthy of the heroine's love.
Elise knows who she is and what she needs in the bedroom, and she's not going to give that up for any man, not even one who might be her best shot at true love. After all, the last time she let love overrule her best judgment is still an open wound on her heart, and the last thing she needs is another one.
Niall wasn't expecting to fall for his friend's older sister, let alone have her push him into a sexual role he'd never ever thought about, let alone considered as something he could enjoy. But Elise is different and special and that one woman who just might be able to show him another way of making love, and in the process, find the self he didn't know he'd had.
Any preconceived notions of how a Megan Hart book will go and what you'll get by the end should always be thrown out, as anyone familiar with her books should already know. When we first meet Elise, I made assumptions about her based on the way she still couldn't let go of the man who had hurt her even though he'd let go long before. Yet as her on again, off again romance with Niall progresses, I could see that the strength she shows in the face of his initial derision and resistance was a direct result from her previous emotional damage, and how it was Niall who needed to decide if what she offered was what he could take without losing what he'd always thought was his sexual identity. I was so proud of them both for working through the conflicts that threatened to separate them even though they loved each other so much, and how their happy ending was about more than just love and acceptance of the other person, but also of themselves. VANILLA was a perfect Megan Hart story for me and I'm so glad I was able to read it.
Related Posts