I received this book for free from the publisher in exchange for an honest review. This does not affect my opinion of the book or the content of my review.
This book may be unsuitable for people under 17 years of age due to its use of sexual content, drug and alcohol use, and/or violence.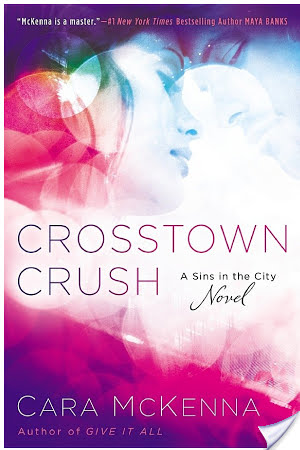 Crosstown Crush
by
Cara McKenna
Also by this author:
Downtown Devil
,
Brutal Game
,
Midtown Masters
Published by
Penguin
on September 1st 2015
Genres:
Contemporary
,
Erotic Romance
,
Fiction
,
General
,
Romance
,
Urban
Pages:
352
Format:
eARC
Goodreads
The first in a new series from the "wicked-hot"* author of Hard Time and Give It All explores the fantasies of a daring married couple—and those of a stranger invited to play along in their scandalous little games… When he's working, Mike Heyer is all business—every inch the alpha male, with the hard, capable body to back up his persona. But at home he can be a different man entirely, harboring appetites only his wife gets to glimpse…When Samira first learned of her husband's fantasies, she was reluctant, even alarmed. But after witnessing the way they set him on fire, she yielded, and happily indulged. As their games have intensified, so has the rush. And now so has the risk—they're poised to take Mike's indecent desires to the next level, by opening their bed to a sexy, brazen stranger. A man seeming custom-made to grant every last one of Mike and Samira's sinful wishes.Welcoming someone new into their lives was always a dangerous proposition, but the couple imagined if anything was at stake, it was their privacy…not their hearts. *New York Times Bestselling Author Jaci Burton
One of the things I love best about Cara McKenna's books is that she is never afraid to tackle subjects that others might tend to shy away from, and always manages to provide insight along with a riveting read. CROSSTOWN CRUSH is no exception, as it tells the story of a married couple trying to embrace the husband's cuckold fetish without endangering what they already have together.
Samira and Mike agreed when they were married that they would remain child-free so that the focus of their marriage would stay only on each other. When Samira discovered Mike's deep desire to believe she was sexually betraying him, it nearly split them up. Now that she's accepted his need, the next logical step is making the fantasy a reality. But when they find the perfect man to be their third, reality is more than any of the three of them are ready to handle.
The idea that a truly loving husband would find sexual satisfaction in his wife's infidelity is not a mainstream kink (if such a thing exists) and reading about it is obviously not for everyone. Yet I thought CROSSTOWN CRUSH handled this touchy subject with respect and acceptance for its characters. The love between Samira and Mike is absolute, and what they do for each other made that obvious for me even when it seemed their relationship might not survive. And while the man they choose to bring into their lives might seem too perfect at first, he's just as much a fully realized person as they are, with real feelings and conflicted emotions. As the three of them dare to embrace their shared need, we aren't pushed to judge them for what they've done and how they handle it – only to observe their actions and understand their motivations as best we can.
If there's any criticism I have with CROSSTOWN CRUSH, it's that we didn't get more of what happened between them from just after the moment of crisis to the Happy For Now epilogue. I would have loved reading several more chapters to see how they got from there to here. Without that, it made sense to me that there wouldn't be a full-fledged HEA, simply because there wasn't enough there to support one that soon. I'm still hoping that we'll get more of Mike and Samira and Bern in a future story, even if it's just a sentence in passing to let us know they're still together and happy. But even if we don't, I still recommend CROSSTOWN CRUSH for anyone ready to dramatically expand their notions about sex, love, and fidelity.