I received this book for free from the publisher in exchange for an honest review. This does not affect my opinion of the book or the content of my review.
This book may be unsuitable for people under 17 years of age due to its use of sexual content, drug and alcohol use, and/or violence.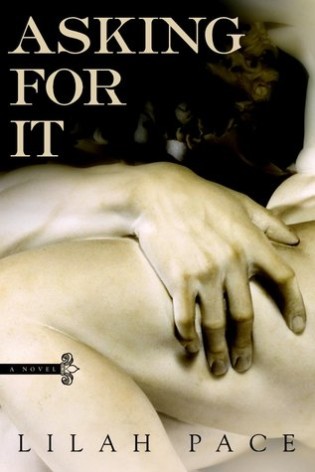 Asking for It
by
Lilah Pace
Series:
Asking For It #1
Also in this series:
Begging for It
Also by this author:
Begging for It
Published by
Penguin Group USA
on June 2nd 2015
Genres:
Contemporary
,
Fiction
,
General
,
Romance
Pages:
336
Format:
eARC
Goodreads
"This is who I am. This is what I want. Now I need a man dangerous enough to give it to me." Graduate student Vivienne Charles is afraid of her own desires—ashamed to admit that she fantasizes about being taken by force, by a man who will claim her completely and without mercy. When the magnetic, mysterious Jonah Marks learns her secret, he makes an offer that stuns her: they will remain near-strangers to each other, and meet in secret so that he can fulfill her fantasy. Their arrangement is twisted. The sex is incredible. And—despite their attempts to stay apart—soon their emotions are bound together as tightly as the rope around Vivienne's wrists. But the secrets in their pasts threaten to turn their affair even darker... Reader Advisory: Asking for It deals explicitly with fantasies of non-consensual sex. Readers sensitive to portrayals of non-consensual sex should be advised.
ASKING FOR IT is an unusual story from a new author, or at least a new name to the genre. I wish I knew the name that Lilah Pace used for her other books, because I want to glom her backlist. Because I loved ASKING FOR IT. I loved it so much that I bought my own copy when it was released weeks after I read the ARC. It's easily the best book I've read so far in 2015, and the only book I'm anticipating being better is the follow up book to come later this year.
Vivienne Charles has a special need for sexual satisfaction, an overwhelming need and a secret shame. Secret until one fateful evening when her drunk ex blurts out the truth in front of the one man who hears and understands. For Jonah Marks has his own wants and desires, and what he wants is what she needs. The forces that let them to this point may be pushing them together, but when long buried secrets are revealed, those same forces will drive them apart just as quickly, perhaps for good.
I'm not going to drop any spoilers to show why I found this book to be so incredibly good because as always, the joy is in the reading. But there is one thing I need to reveal because I'm convinced it will make you like the book more, not less. ASKING FOR IT is not a stand-alone book – it's book 1 of a duology. That means the romance started here in ASKING FOR IT will not have its happy ending until book 2, BEGGING FOR IT.
If you hate cliffhangers, please know that I hate them just as much, and if I hadn't known this story was continued in the next book, I'd have felt blindsided. Yet I did know, and as a result, the ending felt more like an intermission between acts, a natural break as opposed to an arbitrary stopping point. Vivienne and Jonah just have so many problems to work out both individually and together that any HEA in this book would have to be rushed and completely unbelievable. By the time ASKING FOR IT ends, there's so much we know about Vivienne, but we've only just begun to plumb Jonah's depths, and why what Vivienne wanted is what he wanted to give her…until it wasn't.
If you've read the blurb or the disclaimers, you know what this book is about. It's a woman with rape fantasies and a man willing to make them happen for her. But what this book is also about is consent, in big flashing capital letters. Consent is what brings Vivienne and Jonah together. Consent is what differentiates their relationship from any other either has ever had. And lack of consent is what could ultimately tear them apart. Because consent needs to be mutual, or it doesn't exist at all.
The line that resonated with me the most about consent is also what I keep coming back to when someone asks me why their story had to be in two separate books. It was spoken by Vivienne's therapist about Jonah, and it's part of why this book was so different for me in a genre overrun with dub-con, non-con, and every variation of what is sold as "dark romance" these days.
"But he gets to have limits too."
Readers also get to have limits. ASKING FOR IT might hit your limits, and that's understandable. But if this is the kind of book you think you might like, I think you might like it a lot. I know I did.
---
Excerpt
"Enough about me," I say as the weekend-night bustle flows around us – college kids heading to bars, stores open late to take advantage of the foot traffic, guitar music and drumbeats audible from the door of every club. "What about you? What made you decide to study earthquakes?"
"And volcanoes," he adds.
"Can't leave out the volcanoes," I say, and am rewarded with a small smile.
"Well, when I was about ten years old, my mother and stepfather took the whole family to Hawaii."
Stepfather, I note. Jonah could have no memory of his real father, and Carter Hale's been married to Jonah's mother for almost three decades. Most kids in that situation would wind up calling their stepfathers Dad. Not Jonah.
He continues, "Like most tourists in Hawaii, we went out to see the volcanoes. I hadn't imagined you could get that close to the lava flow. When I saw it – glowing orange with heat, pure liquid stone –" To my surprise, he grins. "I was ten, so I thought it was totally cool."
I laugh out loud. "So that's how you picked your scientific specialty? Because it was cool?"
"Any scientist who tells you something different is lying. If you're going to spend your entire life studying something, it needs to thrill you. Volcanoes and earthquakes thrilled me when I was a kid, and they still do. Even after all the studies and the dissertation and months of looking at nothing but seismograph readings. I get a charge out of it every time."
"Hey, they always say that if you do what you love, it doesn't feel like work," I say.
"Which is a crock." When I raise an eyebrow at Jonah, his smile regains some of the fierceness I know so well. "If you spend twelve hours in a row doing something – anything – it feels like work."
Laughing, I admit, "Okay, yes. The studio's my favorite place to be, but there are times when I feel like if I go in there one more time, I'll tear my hair out. Still, I'd rather go crazy making art than do anything else."
Jonah nods. "That's it exactly."
"So you get to spend your whole life chasing lava."
"And you'll spend yours making art."
"Yes and no," I say. "After graduation I'm hoping to go into museum work. Preserving old etchings, curating important pieces, even using original plates from centuries ago to make new prints."
He gives me a look. "You should do your own work. Not worry about taking care of someone else's."
"It's not either/or. I'll never stop creating my own work. But even if I set the entire art world on fire, it'll be years before I can support myself through my etchings alone – if ever. So there's going to be a day job for a while, probably a long while. Should I do something boring that sucks my soul away one day at a time? Or should I surround myself with some of the greatest etchings of all time, and help other people understand how amazing they are?"
After a moment, Jonah nods. "When you put it that way, okay. I see it."
Then his hand brushes against mine. At first I think he's drawing me aside as we go past a group of college kids drunkenly weaving along the sidewalk. After they pass, though, he adjusts his grip, twining our fingers together.
Jonah Marks has screwed me hotter and dirtier than any other man ever has – and yet my heart flutters like a girl's as he holds my hand for the first time. 
---
About the author
Lilah Pace is a pseudonym for a New York Times bestselling YA author. This is her first adult novel.
Related Posts