I received this book for free from the publisher in exchange for an honest review. This does not affect my opinion of the book or the content of my review.
This book may be unsuitable for people under 17 years of age due to its use of sexual content, drug and alcohol use, and/or violence.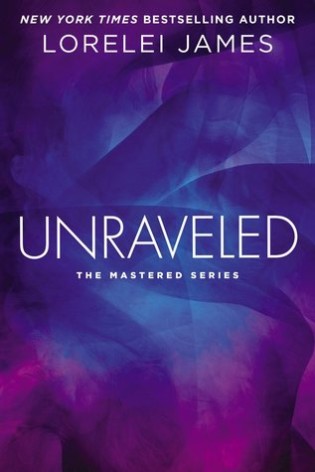 Unraveled
by
Lorelei James
Also by this author:
Caged
Published by
Penguin Group USA
on March 3 2015
Genres:
Contemporary
,
Erotica
,
Fiction
,
Literary
,
Romance
Pages:
464
Format:
eARC
Goodreads
In this sizzling continuation of the Mastered series by New York Times bestselling author Lorelei James, a man will find the domination he's always craved . . . Shiori Hirano and Knox Lofgren are left to run the martial arts program at Black Arts while Ronin Black travels. On the surface, the two highest ranked belts appear to cooperate - but in private, they butt heads constantly, despite the undeniable attraction between them. Soon their power exchanges start to make for a sweltering dynamic in the bedroom . . . At first Knox is shocked to be living out his submissive desires, but Shiori sets out to prove that embracing his true sexual nature doesn't make him a weak man. But even while their sexual relationship grants him a power and fulfillment he finds surprising, there's no training regimen for the fight that comes with loving a strong woman . . . Praise for the Mastered Series and the novels of Lorelei James'To die for!' #1 New York Times bestselling author Maya Banks'An emotional ride filled with joy, angst, laughs, and a wonderful happily ever after!' New York Times bestselling author Jaci Burton'With Unwound, James once again proves she's the master of erotic romance.' New York Times bestselling author Tara Sue Me'Known for erotic interludes, [James] never forgets to bolster the story with plenty of emotional power.' Publishers Weekly'[A] fascinating read that explores the emotions of a woman swept up in a dark world of bondage' RT Book Reviews
One of the best things that can happen in an ongoing series is when the author can redeem a mostly unlikeable character from an earlier book as the winning love interest in a following book. In UNRAVELED, Lorelei James has taken Ronin Black's sister Shiori Hirano, a woman I initially disliked and only begrudgingly came around to liking, and made her the best heroine yet in the MASTERED series.
Now that Ronin is off on a trip to Japan to continue his martial arts training and spend time alone with his new wife Amery, his Black Arts dojo is temporarily in the hands of his sister Shiori and his right hand man Knox Lofgren. On the surface, this combination seems like a disaster in the making, since all Shiori and Knox ever seem to do is fight for domination. Yet there's a deeper attraction under all the sparring, and when Shiori discovers Knox's true nature, it's all she can do to keep from immediately claiming him for good. Knox wants to be the man that Shiori believes he is, but it will take more than irresistible sexual desire to help them get past all the obstacles between them and happiness, not the least of which will be Ronin's reaction to all that's happened in his prolonged absence.
The ongoing transformation of Ronin's sister Shiori from interfering and unapproachable to supportive and emotionally vulnerable without losing her innate strength has been a big draw for me in the MASTERED series and it's a joy to see it come to fruition in UNRAVELED. As strong as she has needed to be from the start, it's only when Shiori lets down her guard with Knox that we see the full person behind the facade. And when Knox trusts her with his newly discovered submission, the results are exhilarating. We see so much more of both characters and what's shaped them into the people we think we know today that when they come together, it's seems impossible that they could have ever resisted each other before. Even when the dreaded black moment of big misunderstanding arrives like clockwork, we see that neither of them is really ready to give up for good, and it makes their final HEA all the sweeter.
UNRAVELED is a solid entry in a series that keeps getting better and better for me, and I can't wait to see how Lorelei James is going to keep it going next.