I received this book for free from the publisher in exchange for an honest review. This does not affect my opinion of the book or the content of my review.
This book may be unsuitable for people under 17 years of age due to its use of sexual content, drug and alcohol use, and/or violence.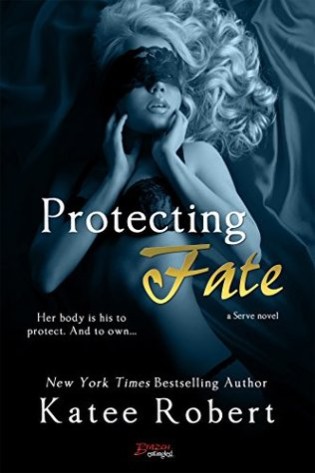 Protecting Fate (Entangled Brazen)
by
Katee Robert
Published by
Macmillan
on March 17th 2015
Genres:
Contemporary
,
Fiction
,
General
,
Romance
Pages:
189
Format:
eARC
Goodreads
A sexy category romance from Entangled's Brazen imprint...Her body was his to protect. And to own...Fixer Sara Reaver is furious when she discovers that she's not only been exiled to the country for her own safety, but she's been assigned a bodyguard. Zebadiah?"Z" Loreto may be her brother's best friend, but he's also one big, bad, and very sexy wolf of a man...and Sara's determined to make him come out and play. And oh, Z wants to play. But Sara Reaver is definitely off-limits and Z promised himself never to unleash his dark desires ever again. Still, he can see that she craves the harsh and sensual hand of control. It will mean crossing professional and personal boundaries. Breaking their own rules. And they'll both discover just what happens-for good or bad-when they relinquish complete control...
I'm a fan of Katee Robert's romances but hadn't read this particular series before reading the PROTECTING FATE novella. The good news is that it works well as a standalone without leaving the reader clueless or dumping unnecessary background information. It's quickly obvious how the hero and heroine know of each other without having had the opportunity to spark any relationship before this moment.
Sara Reaver is still feeling the pain of her parents' divorce and is trying not to resent her siblings for succumbing to marriage when they've all seen how bad it can be. Now that her own reckless actions have forced her into hiding with her brother's best friend Zebadiah "Z" Loreto as protection, her deliberate avoidance of any emotional entanglements will be tested to the limit.
Z trusted a woman he loved, and nearly lost everything as a result. Sara needs him to be safe, but when he realizes there's something more between them, it will take more than just their sexual connection to lead them to the happy ending neither thought could ever happen.
Although I would expect a reader familiar with the series to enjoy this story more than I did, there was plenty of romance to get me involved with the characters and root for them to succeed. The couples from the previous books work well as secondary characters here, and the initial danger to the heroine is resolved realistically, if somewhat preemptively. I was also gratified that the heroine didn't just swoon into agreeing to marriage after her vehement objections to it for so many years. PROTECTING FATE is an intense and entertaining short read that I enjoyed enough to want to read all the previous books in the Serve series.