I received this book for free from the publisher in exchange for an honest review. This does not affect my opinion of the book or the content of my review.
This book may be unsuitable for people under 17 years of age due to its use of sexual content, drug and alcohol use, and/or violence.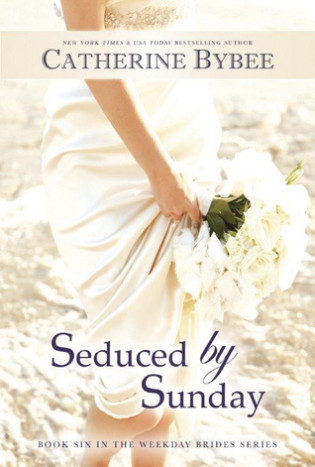 Seduced by Sunday
by
Catherine Bybee
Published by
Amazon Publishing
on April 14th 2015
Genres:
Contemporary
,
Contemporary Women
,
Family Life
,
Fiction
,
Romance
,
Suspense
Pages:
310
Format:
eARC
Goodreads
She swore off love forever...but he just might change her mind. The sixth sweet, thrilling book in the New York Times, USA Today, and Wall Street Journal bestselling Weekday Brides series from Catherine Bybee. Meg Rosenthal: Matchmaker by day, realist by night, Meg is not about to get swept away by a charming, darkly handsome businessman in a designer suit. She's come to a beautiful secluded resort to evaluate the private island's potential for her agency, not to ogle its owner. But there's something about the magnetic man that's hard to resist, even for a woman who refuses to fall in love. Valentino Masini: A successful and drop-dead sexy businessman, Valentino is used to having the finer things in life. Yet he's never wanted someone the way he wants Meg, who's stirring up a hurricane of trouble in his heart. But just as he decides to convince her to stay, someone else decides it might be time to get Meg off the island...permanently.
One of the very first romances I read as an ebook several years ago was WIFE BY WEDNESDAY by Catherine Bybee, and it's still one of my favorite contemporary romances. Since then, that book has been followed by several others in what's now known as the Weekday Brides series, where each day of the week features another heroine and hero finding their way to each other and a well deserved HEA. What I've noticed as the series progresses is that each book in turn has been more romantic suspense than straight up romance. And now with this latest book, SEDUCED BY SUNDAY, what I'd feared would happen has occurred – the actual romance has been downgraded to just another facet of a complicated suspense plot that ends up taking over all but the beginning and ending of the entire book.
SEDUCED BY SUNDAY starts out well enough as we get to know Meg Rosenthal, one of the highly skilled matchmakers working for Alliance, the company started by the heroine of WIFE BY WEDNESDAY. Alliance has successfully matched up several couples who need to be married for reasons other than love, but as we've seen in the previous books, sometimes those alliances turn into love, and sometimes they lead its participants to love matches within the circle of those who initially brought them together. In this story, Meg is taking Michael, the closeted gay actor we met two books earlier, to a resort island run by Valentine Masini in the hopes that this resort will work well as a private honeymoon destination for future Alliance clients. But as Meg and Valentine try not to succumb to their shared sexual attraction, their promised privacy is violated by someone with much bigger plans than mere blackmail. By the end of this story, there will be terrible betrayals and more than a few dead bodies, but the promised HEA for Meg and Val will not be denied.
What made SEDUCED BY SUNDAY a less enjoyable read for me wasn't just how the suspense plot became the focus of the story instead of Meg and Val's budding romance. It was how that plot went from mysterious photographs hinting at blackmail to a sudden and lengthy trip to Italy while another secondary character was kidnapped and abused, culminating with the heroine saving herself in a way that I could not believe one bit. Then when the romance was finally taken up again near the end, I was supposed to believe that the heroine really didn't know the hero loved her because she didn't know the Italian translation of "I love you." I might have been able to swallow one unbelievable ending, but both were just too much for me. And even though I will always love WIFE BY WEDNESDAY, it's clear that the series has transformed into a subgenre where I don't care to follow, so SEDUCED BY SUNDAY will be my last Weekday Brides book.