I'm pleased to welcome Lynne Silver here today to tell us about First Match, the new prequel novella in her long-running Coded For Love series about genetically enhanced soldiers and the women who love them.
---
First Match is a prequel in the Coded for Love series. If you haven't read any of the series, here's a quick highlight on what is Coded for Love:
Engineered with superior strength, agility and acumen, the genetically enhanced soldiers of the top-secret Program do the dangerous assignments no one else can. Now they're tasked with one additional job. Breed.
But finding and convincing their perfect DNA match they are the right men for the job may be their most dangerous mission to date. And the hottest. Good thing they're Coded for Love.
If you haven't read any of the books in the series you won't know that Shep, AKA Commander Peter Shepard, is the mysterious hard-ass in charge of all the younger soldiers. He acts as a father figure to many of the soldiers and is also their strategic planner. It's also very briefly mentioned in Book 1, Heated Match, that Shep was the very first genetically enhanced soldier.
So for the prequel, I thought it would be fun to go back to 1980 and tell Shep's story of what it was like being the first genetically enhanced soldier who's never before been allowed off campus (Virgin Hero alert!) and how he meets the girl who eventually becomes his match.
My favorite parts about the novella are that he's a virgin (I love virgin heroes), it's set in 1980. (Like, totally radical dude), and there's sex, drugs and rock & roll!
Here's a taste of First Match:
Peter leaned in until their faces were inches apart. "I am nothing like the other guys you know. If my life were my own, I'd buy you a house in the suburbs and marry you and make babies. But I don't have that to offer you, and, trust me, you don't want what I have to offer."
"Marriage? Babies? We've known each other two days. And I'm going to—"
"New York. I know," he said almost bitterly. "You're going to be the next Blondie, and I will not stand in your way."
"Then what do we have?"
"This," he said, and leaned in to find her mouth and take her in a deep kiss. As soon as his lips touched hers, all her fear and anger morphed quickly into passion, and she tugged him down to deepen the kiss. Just like at the concert, their passion exploded into an inferno. His large body pushed her willingly back into her mattress, and the comforter crushed up between them as an unwanted barrier.
She couldn't get enough of his mouth and ached for more. "Get under here," she ordered and tugged the blanket out from between their bodies. She heard him kicking off his boots and she sat up to yank her extra-large T-shirt over her head. Her panties were next. Peter stood next to the bed, ripping off his clothes silently and quickly.
---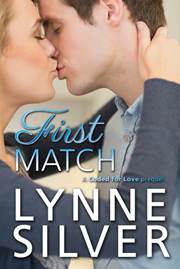 Allison Macclesfield wants—no, needs—to be a rock star, and what better decade to do it in than the '80s? Music is her passion. She's got her future mapped out. Move to New York, find a job, audition to be lead singer in a band.
Plans don't include giving it all up for Peter Shepard, the sexiest guy she's ever met. He's nothing like the guys she's known. Peter's life is full of mystery, and though they believe they're a perfect match, she can have him or her rock star dreams. But not both.
This is a Coded for Love Prequel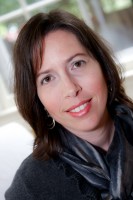 About the Author:
Romance author, Lynne Silver, writes the popular Coded for Love series and other hot contemporary romance novels, such as Love, Technically. Before writing romance, she wrote fiction of a different sort, drafting press releases for technology corporations. Washington DC is her home (non) state, where she resides with her husband and two sons. She is represented by literary agent, Jessica Alvarez of Bookends LLC.
Buy Link:  Amazon
Stalker Links:
Website
Newsletter
Facebook
Twitter: @LynneSilver