I received this book for free from the publisher in exchange for an honest review. This does not affect my opinion of the book or the content of my review.
This book may be unsuitable for people under 17 years of age due to its use of sexual content, drug and alcohol use, and/or violence.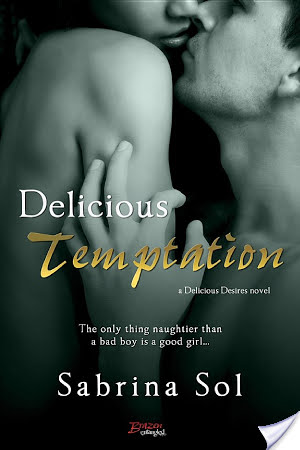 Delicious Temptation (Entangled Brazen)
by
Sabrina Sol
Series:
Delicious Desires #1
Published by
Macmillan
on May 19th 2015
Genres:
Contemporary
,
Fiction
,
General
,
Romance
Pages:
200
Format:
eARC
Goodreads
A sexy category romance from Entangled's Brazen imprint...The only thing naughtier than a bad boy is a good girl...Amara Maria Robles is a good girl. So good that she gave up her dreams of becoming a renowned pastry chef to help her parents with their struggling Mexican bakery. Yet her parents reject any changes she suggests, and refuse to sell her mouth-watering confections. Clearly being a good girl isn't paying off. So when her brother's sexy ex-best friend walks into the bakery, Amara's tempted to be very bad indeed...After a scandal twelve years ago, resident bad boy Eric Valencia has returned to make things right with his family and friends. One glance at Amara and her wicked curves, however, and Eric finds himself thinking about how she'd feel beneath him-something he promised Amara's brother he would never think about, let alone do. But this bad boy is in deep trouble...because Amara's determined to have her cake, and Eric, too.
DELICIOUS TEMPTATION is the story of how a good girl and a bad boy each move past the judgmental expectations of family and community to embrace love and a new life together. This story should have been right in my wheelhouse, but the combination of a doormat heroine, a vacillating hero, and outrageously overbearing parents made this a less than optimal read for me
Amara Robles abandoned her successful pastry chef job in Chicago to take over her family's tiny East LA bakery after her father's illness. Now with all of the responsibility but none of the authority, Amara feels stifled by being back under her parents' thumb and by their refusal to approve any changes to save the bakery. When her brother's notorious high school friend Eric Valencia reappears after years away, Amara decides to risk her parents' disapproval to go after him, if only temporarily. But will Eric be worth the gamble for both her heart and her family's livelihood?
The trope of a heroine yearning to break free from oppressive parents is a classic in romance, and it's gratifying when the heroine successfully rescues herself from their clutches. But when the parents are completely intractable in the face of all good reason, and the heroine can't escape without the help of other external forces, then I start feeling trapped myself.
DELICIOUS TEMPTATION still could have worked for me if Amara had ever stood up to her parents even once. But in Amara's world, life isn't what you make of it, it's what your parents decide is best for you. This might be understandable for a heroine just starting out on her own, but when the heroine is in her late 20s and has already had a life outside her parents' sphere of influence, it makes for a frustrating read. And yet this is how Amara behaves for nearly the entire story. Even when the last best opportunity to save her parents' bakery is rejected by them (just like always), it only still ends up happening because someone else takes over after Amara gives up (just like always).
Amara only makes a few real independent decisions in the entire story, one of which is to make the fancy cupcakes her parents previously rejected, and the other to go after Eric. And yet she even gives up on Eric when it looks like he's not going to stick around after all. Amara's almost complete acquiescence to whatever anyone else decided for her was infuriating, and having other characters call her out on it didn't make it any better. By the time I got to the end of the book, it was clear that if Eric hadn't finally seen the light, Amara would have stayed under her parents' thumb indefinitely. That's not a heroine I can cheer for.
Amara and Eric were a cute couple, and I was glad they got their HEA in spite of all the obstacles in their path. But ultimately for me, Amara's inability to stand up for herself until everything else was already fixed for her made DELICIOUS TEMPTATION more aggravating than enjoyable for me.
Related Posts