I received this book for free from the publisher in exchange for an honest review. This does not affect my opinion of the book or the content of my review.
This book may be unsuitable for people under 17 years of age due to its use of sexual content, drug and alcohol use, and/or violence.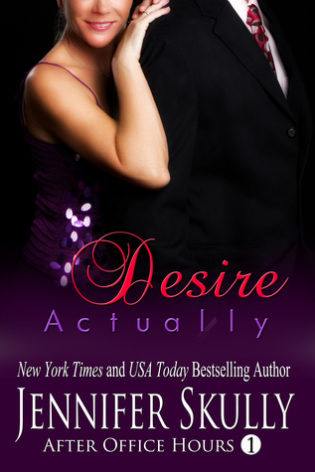 Desire Actually
by
Jennifer Skully
Series:
After Office Hours #1
Also in this series:
A Love Affair to Remember
,
Pretty in Pink Slip
Also by this author:
A Love Affair to Remember
,
Pretty in Pink Slip
Published by
Self-Published
on 2/11/2016
Genres:
Hot Contemporary
,
Romance
Pages:
240
Format:
eARC
Goodreads
What does a red-blooded, All-American male do when his wife asks for a divorce—by email, no less—claiming he's too vanilla in the bedroom?

He gets a sexy tutor for after-office-hours sessions, of course.

Enter Jordana Davis, a work colleague who offers to share the mysterious secrets of what women really want—Desire, Actually. Grady Masterson is more than willing to listen to every seductive suggestion.

He aces sexting and phone sex as the sparks start to fly between them. Then Jordana imagines that Grady could be the one she hadn't been looking for. If only he wasn't taking lessons from her to win back his wife.

How far would you go to win the one you love?

"Desire Actually", Book 1 of the After Office Hours series, is a sexy, contemporary romance of approximately 65,000 words.
A copy of this book was provided by the author for an honest review at The Romance Evangelist.
If you follow me here or on Twitter, you should already know that Jasmine Haynes is one of my very favorite erotic romance writers. What you may not know is that she also writes slightly less explicit but still wonderfully steamy romances under the name Jennifer Skully. I'd already been meaning to check out her books under that name, so when the opportunity came along to review the first book in her new After Office Hours series, I was all over it.
"Desire Actually" gets its name indirectly from the movie "Love Actually" but even if you're not a fan of that particular movie (I'm not) you shouldn't let that keep you from reading this wonderful story of how its hero's lessons in desire also taught its heroine the power of true love.
Grady Masterson is an honorable man both in business and his personal life. Yet he never realized how his business had overtaken his life until his wife asked for a divorce via email. Now that he's decided to fight for his marriage where it went bad – in the bedroom – he needs someone like Jordana Davis to teach him about the power of sexual desire.At first it seems lucky for Grady that desire all Jordana wants about after a life filled with disappointment in love from everyone she's ever counted on. But when explosive desire threatens to upend their lives in and out of the bedroom, it's love that saves them both from settling for anything less.
Knowing that a Jennifer Skully book would be less sexually explicit had me cautious at first with "Desire Actually" but my concerns quickly evaporated by Grady's first lesson in desire with Jordana. Together they are the perfect blend of hot and sweet as we see Grady not only learn why his marriage failed, but eventually why it was never going to work in the first place, and why someone like Jordana should be his future instead of trying to fix the past. As for Jordana, we get to revel in her stories of past desire without judgment as both she and we discover why Grady is the one guy who can teach her how to trust in love again.
As with her Jasmine Haynes stories, Jennifer Skully is quite adept at writing a hot secret office romance, providing all the background characters we need to provide the underlying sense of danger at the possibility of discovery. And as a romance reader who does not want to read about cheating characters, I especially appreciated how it was made clear that Grady has been and continues to be physically faithful to his wife for as long as a potential reconciliation exists. Some readers might not care about such niceties but I do, and that helped make "Desire Actually" an even better read for me than I had anticipated. I can't wait to read the next book in this series.
Related Posts