I received this book for free from the publisher in exchange for an honest review. This does not affect my opinion of the book or the content of my review.
This book may be unsuitable for people under 17 years of age due to its use of sexual content, drug and alcohol use, and/or violence.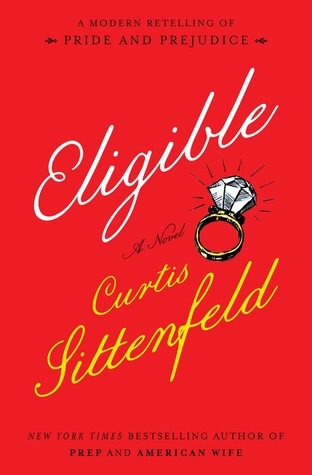 Eligible
by
Curtis Sittenfeld
Series:
The Austen Project #4
Published by
Random House Publishing Group
on April 19th 2016
Genres:
Contemporary Women
,
Family Life
,
Fiction
,
Literary
Pages:
512
Format:
eARC
Goodreads
NEW YORK TIMES BESTSELLER • Wonderfully tender and hilariously funny, Eligible tackles gender, class, courtship, and family as Curtis Sittenfeld reaffirms herself as one of the most dazzling authors writing today. This version of the Bennet family—and Mr. Darcy—is one that you have and haven't met before: Liz is a magazine writer in her late thirties who, like her yoga instructor older sister, Jane, lives in New York City. When their father has a health scare, they return to their childhood home in Cincinnati to help—and discover that the sprawling Tudor they grew up in is crumbling and the family is in disarray. Youngest sisters Kitty and Lydia are too busy with their CrossFit workouts and Paleo diets to get jobs. Mary, the middle sister, is earning her third online master's degree and barely leaves her room, except for those mysterious Tuesday-night outings she won't discuss. And Mrs. Bennet has one thing on her mind: how to marry off her daughters, especially as Jane's fortieth birthday fast approaches. Enter Chip Bingley, a handsome new-in-town doctor who recently appeared on the juggernaut reality TV dating show Eligible. At a Fourth of July barbecue, Chip takes an immediate interest in Jane, but Chip's friend neurosurgeon Fitzwilliam Darcy reveals himself to Liz to be much less charming. . . . And yet, first impressions can be deceiving.Praise for Eligible"Even the most ardent Austenite will soon find herself seduced."—O: The Oprah Magazine "Blissful . . . Sittenfeld modernizes the classic in such a stylish, witty way you'd guess even Jane Austen would be pleased."—People (book of the week) "[A] sparkling, fresh contemporary retelling."—Entertainment Weekly"[Sittenfeld] is the ideal modern-day reinterpreter. Her special skill lies not just in her clear, clean writing, but in her general amusement about the world, her arch, pithy, dropped-mike observations about behavior, character and motivation. She can spot hypocrisy, cant, self-contradiction and absurdity ten miles away. She's the one you want to leave the party with, so she can explain what really happened. . . . Not since Clueless, which transported Emma to Beverly Hills, has Austen been so delightedly interpreted. . . . Sittenfeld writes so well—her sentences are so good and her story so satisfying. . . . As a reader, let me just say: Three cheers for Curtis Sittenfeld and her astute, sharp and ebullient anthropological interest in the human condition."—Sarah Lyall, The New York Times Book Review "A clever, uproarious evolution of Austen's story."—The Denver Post "If there exists a more perfect pairing than Curtis Sittenfeld and Jane Austen, we dare you to find it. . . . Sittenfeld makes an already irresistible story even more beguiling and charming."—Elle"A playful, wickedly smart retelling of Jane Austen's Pride and Prejudice."—BuzzFeed "Sittenfeld is an obvious choice to re-create Jane Austen's comedy of manners. [She] is a master at dissecting social norms to reveal the truths of human nature underneath."—The Millions"A hugely entertaining and surprisingly unpredictable book, bursting with wit and charm."—The Irish Times "An unputdownable retelling of the beloved classic."—PopSugarFrom the Hardcover edition.
Now that the latest incarnation of The Bachelor/ette is back on the air, with its fictional behind-the-scenes counterpart UnREAL soon to follow, it's seems fitting to be reviewing "Eligible" — a re-imagining of "Pride and Prejudice" that deftly incorporates elements from that classic as well as the aforementioned TV shows without being unduly beholden to any of its nominal source material. I'll admit that I'm a big fan of Curtis Sittenfeld's previous work, so I was confident that if anybody could pull off an updated story of Lizzie and Darcy, it would be her. And ultimately what she has produced here is a delightful and multi-layered story that can stand on its own without the P&P underpinnings.
"Eligible", much like the Austen original, is a skillfully plotted story about a woman who stumbles on an unexpected love while trying to save her feckless family from themselves. The author's decision to use a fictional dating show as the book's primary catalyst may put some potential readers off, but I found it to be the perfect counterpart to the ongoing chaos of the Bennet family as a whole and Liz's life in particular. In the absence of a tiny English town where everyone knows all the local gossip, it takes a tv dating show to alert Mrs. Bennet to the suitability of a visiting Chip Bingley for whichever of her single daughters she can manage to throw at him. And then as the Bennet family's spiral into impending disaster gathers speed, it's the TV dating show that helps keep the other characters moving through their predetermined paces as we watch Liz and Darcy meet, hate, and eventually fall in love.
Most of Romancelandia adopted the original Pride and Prejudice story as a romance long ago so it's fair to ask if "Eligible" passes the same test. Well, yes. Liz's relationship with Darcy, while perhaps not quite what Austen could have envisioned, is at the heart of "Eligible" from the moment they meet. and their lovely HEA had me wiping away happy tears by the end of the book. Together they are the relatively calm eye of the story's hurricane as all other characters wreak their own sort of havoc all around, with the TV dating show always ready to prod everyone into action at any moment.
Those readers looking for cracks in the "P&P fanfic" aspect of the story should be fairly content with how the major characters are present and accounted for here. I was especially pleased with how the author chose to represent the villainous Wickham but won't elaborate here in case you'd like to be surprised as well. The only slight issue I have in this regard was the plot line, if you could call it that, featuring Kathy de Bourgh as an elusive Gloria Steinem stand-in. Liz seems to spend half of the story trying to schedule an interview with the famous feminist, yet when they finally do meet, the Darcy tie-in expected by my inner P&P fan never really materialized. Still, it's a minor quibble, and only confirms to me that while "Eligible" works well within Jane Austen's original outline, it can and should be appreciated as an original creation in its own right.
Related Posts