I received this book for free from the publisher in exchange for an honest review. This does not affect my opinion of the book or the content of my review.
This book may be unsuitable for people under 17 years of age due to its use of sexual content, drug and alcohol use, and/or violence.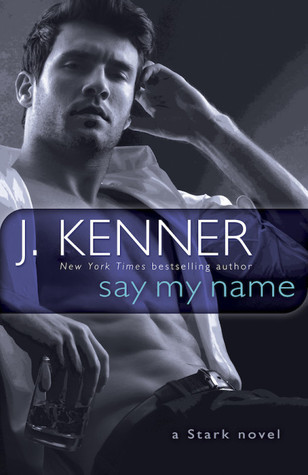 Say My Name
by
J. Kenner
Published by
Random House Publishing Group
on April 7th 2015
Genres:
Contemporary
,
Erotica
,
Fiction
,
General
,
Romance
Pages:
336
Format:
eARC
Goodreads
New York Times bestselling author J. Kenner kicks off a smoking hot, emotionally compelling new erotic trilogy that returns to the world of her beloved Stark novels: Release Me, Claim Me, and Complete Me. Say My Name features Jackson Steele, a strong-willed man who goes after what he wants, and Sylvia Brooks, a disciplined woman who's hard to get--and exactly who Jackson needs.   I never let anyone get too close--but he's the only man who's ever made me feel alive.   Meeting Jackson Steele was a shock to my senses. Confident and commanding, he could take charge of any room . . . or any woman. And Jackson wanted me. The mere sight of him took my breath away, and his touch made me break all my rules.     Our bond was immediate, our passion untamed. I wanted to surrender completely to his kiss, but I couldn't risk his knowing the truth about my past. Yet Jackson carried secrets too, and in our desire we found our escape, pushing our boundaries as far as they could go.   Learning to trust is never easy. In my mind, I knew I should run. But in my heart, I never felt a fire this strong--and it could either save me or scorch me forever.   Say My Name is an erotic romance intended for mature audiences. From the Trade Paperback edition.
In SAY MY NAME, J. Kenner returns to the world she established in her original Damien Stark erotic romance trilogy, only this time the heroine is Stark's most trusted employee and her hero is the one man she's loved enough to push away for his own good. When the only way Sylvia Brooks can save her first solo Stark International project is by begging Jackson Steele for help, that rescue could cost her own sanity. But as the two star-crossed lovers slowly learn to love and trust again, they soon find what's at stake might be their own lives.
Although I quite enjoyed the original Stark trilogy, I'll admit this new book started a bit slowly for me. I've never been a big fan of trying to guess what the initial relationship was between the hero and heroine, or what broke them apart so brutally that she fears his harsh reaction as he initially tries to reject her. So the story was a bit frustrating for me until the flashbacks were over and we were completely in the present. But from that point on, I was completely enthralled, even already knowing how Kenner structures these trilogies so that the first two books end on a tentative Happy For Now, saving the Happy Ever After for the final story.
Both Jackson and Sylvia have endured terrible childhoods which are still influencing their present lives more than even they could have predicted. They can't stay apart any longer and yet everything seems to be conspiring to split them up anyway. And hovering over it all is the outsized influence of Damien Stark himself, to the point that Sylvia may soon have to choose between the man she loves and the man who has earned her complete loyalty. It's a heady mix of love and intrigue, and Kenner continues to deliver a knockout experience that made me long for the next book even as I was more than satisfied with this story's ending. To say more would give too much away, and I encourage everyone who loved the original Stark trilogy to read SAY MY NAME to find out what's there for themselves.
Related Posts