I received this book for free from the publisher in exchange for an honest review. This does not affect my opinion of the book or the content of my review.
This book may be unsuitable for people under 17 years of age due to its use of sexual content, drug and alcohol use, and/or violence.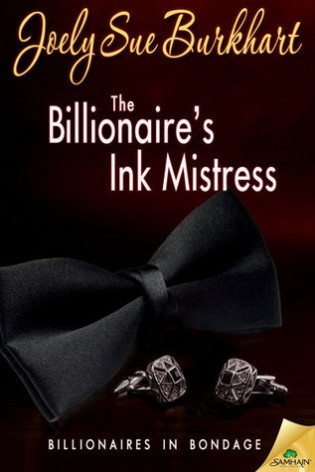 The Billionaire's Ink Mistress
by
Joely Sue Burkhart
Series:
Billionaires in Bondage #2
Published by
Samhain
on April 7 2015
Genres:
Contemporary
,
Contemporary Women
,
Erotica
,
Fiction
,
Romance
Pages:
216
Format:
eARC
His desire for her pierces deeper than skin.

Billionaires in Bondage, Book 2

The Lawyer

Jackson Montgomery Warring never lets opposing counsel see him sweat. Juggling a dozen billionaire clients on a daily basis, he's always perfectly prepared, calm, cool and collected. Until he meets his best friend's fiancée, the luscious Mistress L.

Now he wants a Mistress for himself. Badly. Except the one who's caught his eye is his complete opposite—a Goth-booted, tatted and pierced priestess of the local tattoo scene.

The Inker

For over a year, Diana Temple has been too busy at her up-and-coming tattoo shop to throw one of her legendary BDSM parties. But for Jackson, she'll make the time, especially since the slick, fancy lawyer admits he likes to watch.

The Secret

If she thought her edgy style might turn him off, she's happy to discover she's wrong. But when she learns his secret addiction, she might refuse to teach him a thing or two about submission.

Or maybe she'll just punish him harder…

Warning: A rich, successful attorney in a downward spiral, a tattoo artist who happens to be a Mistress, a secret addiction and a peek at exhibitionism/voyeurism.
One of the best books I read in 2014 was THE BILLIONAIRE SUBMISSIVE, the first book in a new series from Joely Sue Burkhart, who continues to be one of my favorite erotic romance writers. So of course I was excited about this second book, THE BILLIONAIRE'S INK MISTRESS, and I'm happy to report that it was nearly as good a read as the previous one.
Jackson Warring is an overworked overachieving lawyer who presents a perfect facade to the world even as his actual life is falling apart. Yet he has no idea what he can do to stop his downward spiral…not until one fateful day when he has to visit his best friend Donovan Morgan on business and discovers the new relationship that has made that man happier than he's ever seen. That's when Jackson realizes exactly what he needs, and begs Donovan's Mistress L for help. Lilly's friend Diana seems like the perfect match for Jackson even though they come from completely different worlds. But as Diana and Jackson begin to learn each other's secrets, their happy ending is far from certain, and anything less might be too much to bear.
The best part of THE BILLIONAIRE'S INK MISTRESS was how it avoided the more obvious ways the plot could play out for something less expected, yet more realistic. Of course there were class-based conflicts between Diana's world and Jackson's, and the way they each rose to every occasion proved that their love wasn't based solely on their powerful sexual attraction. Even after the reasons why Jackson had pushed himself to his physical and emotional limit before meeting Diana seemed to be resolved, there had to be one last big threat which only Jackson could resolve himself, leaving Diana to wait and hope he would find his way back to her for good. But none of it the way I might have expected, and that's what made this great book even better for me. With the Billionaires in Bondage books, Joely Sue Burkhart continues to subvert popular romance tropes and that's what makes this a must-read series for me.
Related Posts