I received this book for free from the publisher in exchange for an honest review. This does not affect my opinion of the book or the content of my review.
This book may be unsuitable for people under 17 years of age due to its use of sexual content, drug and alcohol use, and/or violence.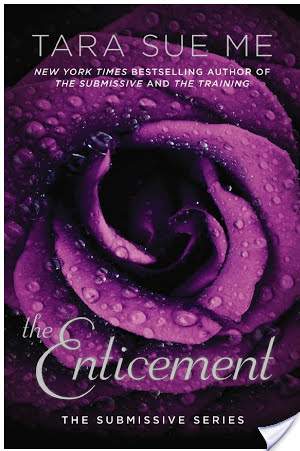 The Enticement
by
Tara Sue Me
Series:
Submissive #4
Also in this series:
The Collar
Also by this author:
The Collar
Published by
Penguin
on April 7th 2015
Genres:
Contemporary
,
Contemporary Women
,
Fiction
,
General
,
Romance
Pages:
304
Format:
eARC
Goodreads
New York Times bestselling author Tara Sue Me returns to the story of Abby and Nathaniel to explore the passion after the 'Happily-Ever-After'…Limits were made to be pushed.Abby West has everything she wanted: a family, a skyrocketing new career, and a sexy, Dominant husband who fulfills her every need. Only, as her life outside the bedroom becomes hectic, her Master's sexual requirements inside become more extreme. Abby doesn't understand Nathaniel's increased need for control, but she can't deny the delicious way her body reacts to his tantalizing demands…Between Abby's reluctance and Nathaniel's unyielding commands, the delicate balance of power between the Dominant and his submissive threatens to shift. And as the underlying tension and desire between them heats up, so does the struggle to keep everything they value from falling apart …
One of the reasons I've loved Tara Sue Me's Submissive series is the way she continues to show its romantic couple – Nathaniel and Abby – grow in their love for each other while they deal with everything married life continues to throw at them. It's not often we get to see a D/s erotic romance couple in their lives together after the HEA, but THE ENTICEMENT, the latest book in this series, is just as fascinating and enjoyable as its predecessors.
Now that Abby and Nathaniel have been married for a while, it seems almost inevitable that they might fall into a bit of a rut in their interactions, and their D/s relationship is no exception. When a new career opportunity for Abby comes up just as Nathaniel is looking to hand off day-to-day control of his charitable foundation, the combined stress has the potential to either strengthen their D/s commitment or open a split in what each believes the other wants both in and out of the bedroom.
What I loved most about THE ENTICEMENT was how neither Nathaniel nor Abby ever once took each other's happiness for granted even with all the big changes they had to navigate in this story. It was great to see Nathaniel truly happy for Abby's success and not feel threatened by how it might affect his privacy. And even though Abby had continuing doubts about the new woman trying to come between her and Nathaniel, Abby still trusted in Nathaniel's love. Best of all, when their D/s relationship began to reflect the major upheaval, they both eventually realized that they needed to communicate what they were feeling and thinking, making the changes deliberate instead of just a knee-jerk reaction to everything going on. Neither one of them is perfect, and they make mistakes along the way, just like anyone else would. But both Nathaniel and Abby know they love each other, and that is what keeps them from losing touch with what's really important. It's as realistic a portrayal as one can be for a contemporary billionaire Dom and his submissive wife, and I can't wait to see what happens in Nathaniel and Abby's lives next.
Related Posts